9 Apple Stories Pushing Stock Below $400
Monday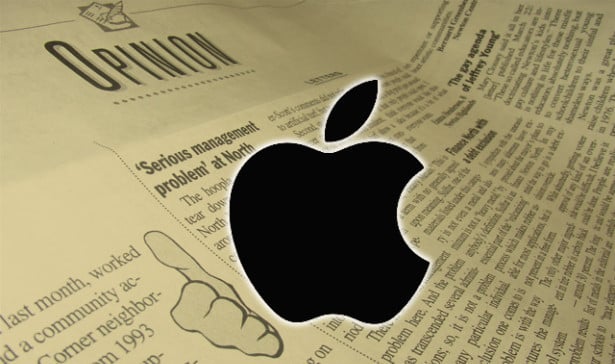 Continuing last week's downward trek, shares of Apple (NASDAQ:AAPL) continued to march back down the stock chart. Shares took a bruising after analysts at Jefferies lowered their price target on the iPhone maker's stock, dipping momentarily below the psychologically important level of $400 per share. While shares recovered slightly before the markets closed, the stock still ended Monday in the red, closing down $10.96, or 2.65 percent, at $402.54. Here's a cheat sheet to today's top Apple stories:
Apple Below $400: Did This Price Cut Do the Damage?
Apple shares may be seeing another moment of negativity, as Jefferies just dropped its price target to $405 and has a "hold" rating on the stock. However, things could turn around in the fall with the release of several highly anticipated products.
It's well known to investors that Apple has not had an amazing past nine months. Many thought the stock would go higher and higher when it peaked at just about $705 in the middle of September last year, but over the following months, Apple failed to prove that it's a flawless investment… (Read more.)
Will Long-Term Bonds Jeopardize Apple's Future?
It's no secret that investors who bought bonds issued by Apple in April have recently been feeling some pain. Apple's bonds have lost more than 8 percent of their value according to MarketAxess data cited by the Wall Street Journal. Because the bonds were offered when interest rates were near historic lows, they have been especially sensitive to interest rate swings. However, it appears the Cupertino-based company may soon be sharing its investors' bond market pain. Apple's most recent 10-Q filing reveals the breakdown of its substantial $145 billion money pile. Apple has about $12 billion in cash, $27 billion in short-term marketable securities, and $106 billion in long-term marketable securities… (Read more.)
What Privacy? Apple's Sketchy PRISM Response
Ever since the Washington Post broke the story of a secret communication surveillance program known as PRISM, consumers have been desperately seeking privacy assurances from various Internet companies. However, Apple's recently posted "Commitment to Customer Privacy" statement is a vaguely worded and evasive document that will do little to assuage users' concerns.
Apple states on its website, "Like several other companies, we have asked the U.S. government for permission to report how many requests we receive related to national security and how we handle them. We have been authorized to share some of that data, and we are providing it here in the interest of transparency." So far, so good – but this straightforward preamble is followed by several strangely nontransparent and uninformative paragraphs… (Read more.)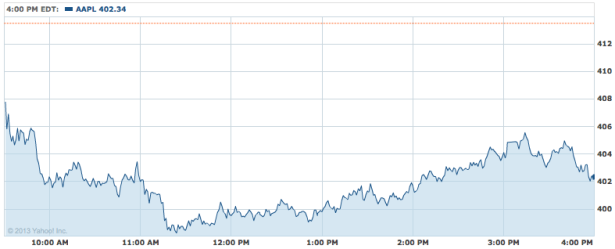 Don't Miss: Will Long-Term Bonds Jeopardize Apple's Future?
Follow Meghan on Twitter @MFoley_WSCS
Tuesday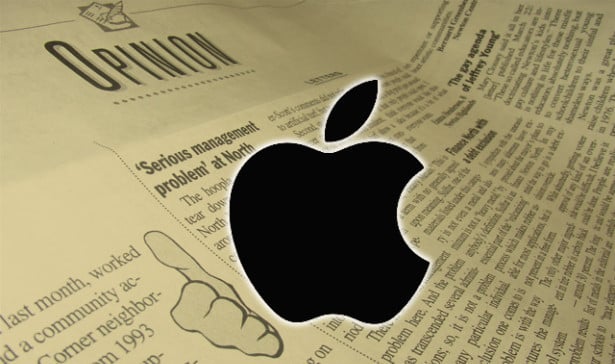 Apple (NASDAQ:AAPL) investors bid shares of the iPhone maker down a roller-coaster-like track Tuesday and even pushed the stock below below the psychologically important level of $400 for the second time this week. However, the stock recovered to a small degree, closing in the green for the first time in five days. Shares ended the day up 9 cents, or 0.02 percent, at $402.63. Here's a cheat sheet to today's top Apple stories:
Is iOS 7 Brilliant or a Sign That Apple Lacks Innovation?
Apple's iOS 7 may be winning over fans early, with one poll showing that consumers paying attention to the new operating system look favorably at the new design. But has Apple really done something noteworthy?
Input Factory created the mobile polling tool Polar, which was used to poll more than 46,000 people about the new system icons designed for iOS 7. Because the new icons will be the face of the operating system, it is important for them to appeal to users — thus, the Polar poll tried to find out just how appealing they are.While some people may not be happy about the new icons, the poll found that a majority favored the new design compared to the old icons… (Read more.)
Is Apple a Rotten Investment?
Apple's strength has always been innovation: creating new products that change the way we work and play. But Apple has failed to introduce a new product since November, and investors believe the company is losing its edge in innovation to competitors. CEO Tim Cook hoped to change this sentiment at Apple's Worldwide Developers Conference several weeks ago. He referred to Apple's new product offerings as "game changers," but the conference only left investors wanting more. The only two products Cook unveiled were iOS 7, an update to existing iPhone and iPad operating systems, and iRadio, a music streaming service that hardly seems different from Pandora (NYSE:P).
The average selling price of Apple products has recently been in steady decline. A lower average selling price, especially for the iPhone and iPad, will most likely lead to a lackluster third-quarter earnings announcement… (Read more.)
Apple's Latest Patent Lawsuit Comes Up Short
In a seemingly never-ending patent war, the most recent bout went to Samsung (SSNLF.PK), as they saw an appeals court in Japan rule in their favor after Apple alleged that the maker of the Galaxy infringed on its patent for synchronizing music and video for both smartphones and tablets.
The Intellectual Property High Court in Tokyo upheld the decision in favor of Samsung after a Tokyo District Court rejected Apple's claim of infringement on synchronization invention. This continued patent-dispute between Apple and Samsung has spanned over four continents since Apple accused Samsung of "slavishly" copying their devices… (Read more.)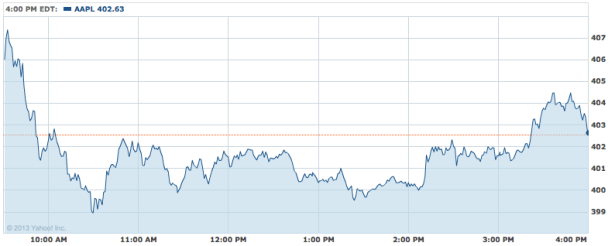 Follow Meghan on Twitter @MFoley_WSCS 
Wednesday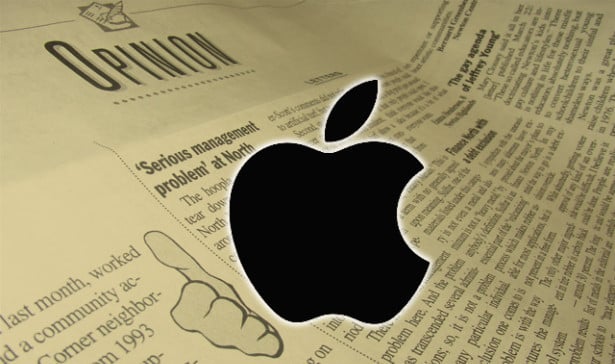 With the news that Jefferies had lowered its estimate for the number of iPhones expected to be sold this quarter to 26 million, shares of the iPhone maker closed down on Wednesday. While the stock dipped below the psychologically important level of $400 in each of the past two days, Wednesday was the first day shares closed below that mark since late April. Apple (NASDAQ:AAPL) closed down $4.56, or 1.13 percent, at $398.07. Here's a cheat sheet to today's top Apple stories:
 Is Apple's iOS 7 the Next Big Thing for Enterprise?
Apple is promoting several new business-friendly features it has added to its iOS 7 mobile operating system through a new section on its website. The new promotion is part of the company's overall strategy to attract more enterprise users to its platform.
On is website, Apple says, "iOS 7 provides enhanced security, powerful new ways to configure and deploy devices at scale, and features to help businesses purchase, distribute, and manage apps with ease."… (Read more.)
Analyst: Is This the Best Time to Buy Apple?
Should buyers take advantage of the recent dip in Apple's share price? UBS analyst Steve Milunovich thinks that the Cupertino-based company's stock may be in for a turnaround in the next six to twelve months, when new product categories are unveiled.
In a recent appearance on CNBC's "Fast Money: Halftime Report," Milunovich said that Apple is in a difficult time as it goes through an "innovation lull." Although show host Scott Wapner pointed out that Apple has lost about $300 billion in market cap, close to half its value, Milunovich sees signs of future improvement thanks to exciting products coming next year… (Read more.)
Google Tops Apple in This Important Cash Metric
Is Google (NASDAQ:GOOG) more valuable than Apple? Although Apple is still the more valuable company by market capitalization, Google's enterprise value has now surpassed its Cupertino-based rival.
When it comes to market capitalization, Apple still beats the Internet search giant with a total value of $378 billion to Google's $286 billion. However, without counting Apple's $145 billion of net cash, the company is left with an enterprise value of $233 billion. On the other hand, if you remove Google's $45 billion in net cash, the Mountain View-based tech company is still left with an impressive enterprise value of $241 billion. Thanks to the iPhone maker's recently declining share price, Google was able to surpass Apple in this important metric last week… (Read more.)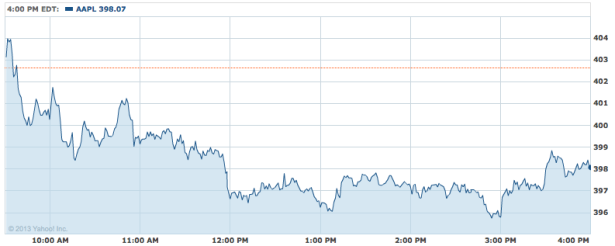 Follow Meghan on Twitter @MFoley_WSCS