A Flop New Phone Is BlackBerry's Latest #Fail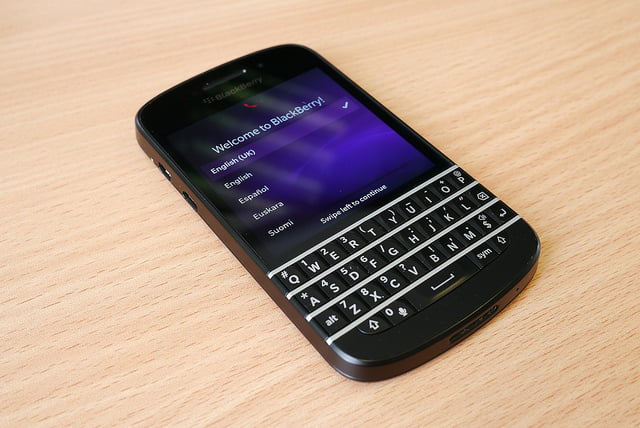 Oops, BlackBerry (NASDAQ:BBRY) did it again. It played with our hearts and rolled out another poor-selling phone. That would be the BlackBerry Q10, the Canadian company's last-ditch effort to launch a phone that could effectively take on Apple and Samsung Electronics' popular offerings and land the smartphone maker back in the driver's seat.
But it looks like BlackBerry will remain in the backseat, at least for now, because although the phone giant as been notably mum about the sales of its latest smartphone, carrier executives and retailers in the U.S. and Canada are painting a clear enough picture for everybody.
According to The Wall Street Journal, Chief Executive Thorsten Heins and his team were counting on the new keyboard-equipped Q10, as well as the new touch-screen Z10, to help BlackBerry realize a major comeback after falling sharply behind smartphone giants Apple and Samsung. Though BlackBerry was once recognized as the world's largest smartphone company, that status has now become a thing of the company's past as it combats flagging sales and a lack of interest from customers who once were interested in BlackBerry's easy-to-use keyboard but have since transitioned over to touchscreen.
That's why the success of the Q10 was so critical to BlackBerry's business — the company was counting on the device's well-reception to prove to investors and consumers that BlackBerry still had the power to roll out major selling phones if it wanted to. But it wanted to, and it didn't. After a year-long delay, the Q10 hit stores in Canada and international markets in May, only shortly after the Z10 was also launched there.
The keyboard-equipped phone then became available to U.S. consumers in July, but retailers and carrier executives now report that there has been little-to-no demand for the new phone as of yet. The Wall Street Journal reports that even in Canada, BlackBerry's home base, consumers have show minimal interest in the device, with an executive at a Canadian carrier explaining, "I think we'd all say that the Q10, the one we all thought was going to be the savior, just hit the ground and died. It didn't drive the numbers that anybody expected."
That's a significant issue for BlackBerry — especially considering that its other new phone, the Z10, also failed to sell well. That reality was evidenced by the smartphone company's latest earnings report it released in late June, and since then, the bottom has all but fallen out for BlackBerry.
The Z10, first available in the U.K. and Canada beginning in February, and then in the U.S. in March, has already been hit with discounts by retailers who can't find any other way to get the device off their shelves. Best Buy (NYSE:BBY), like many outlets, now offers the phone free alongside a two-year contract, and many are complaining that its stock, along with the Q10′s, is doing nothing but piling up.
That explains why BlackBerry is now becoming increasingly open to the idea of a sale of the company. Though recent reports have illuminated why this initiative may be complicated — many buyers are interested in BlackBerry's assets and patents, but not its hardware — more and more firms are also expressing interest in the idea as they recognize BlackBerry's still impressive patent portfolio.
However, for now, the phones will continue to be on sale, but as BlackBerry moves closer to a sell, less and less consumers may be interested in buying into a phone and ecosystem that could be all but extinct sooner than later.
Don't Miss: More BlackBerry Blues: Morgan Stanley Holds Off on Company Upgrade.