AAPL Earnings: Cash Hoard Swells to New Record
For its fiscal 2013 first quarter, which included 13 weeks, Apple (NASDAQ:AAPL) posted a net profit of $13.1 billion ($13.81 per diluted share), compared to $13.1 billion ($13.87 per diluted share) a year earlier. Meanwhile, revenue increased 17.7 percent to $54.5 billion, from $46.3 billion in the 14-week year-ago quarter. Analysts had expected Apple to earn $13.47 per share on $54.9 billion in revenue. Apple's own estimates called for $11.75 per share with revenue coming in at $52 billion.
Gross margin came in at 38.6 percent, which was slightly better than the 38.4 percent expected by Wall Street. In the same quarter a year earlier, gross margin was 44.7 percent.
Apple sold a record 47.8 million iPhones in the quarter, compared to 37 million a year earlier. Apple also sold a record 22.9 million iPads. Mac and iPod unit sales declined from the same year-ago quarter.
Through all the volatility in supply issues and rumors, the company is still adding greenbacks to its massive cash hoard…
Taking the total of Apple's cash and cash equivalents, short-term marketable securities and long-term marketable securities, the company's cash position grew to $137.1 billion, another new record. In comparison, Apple held a total cash position of $97.6 billion a year earlier. As the chart below from Zero Hedge shows, Apple increasing its cash position is business as usual.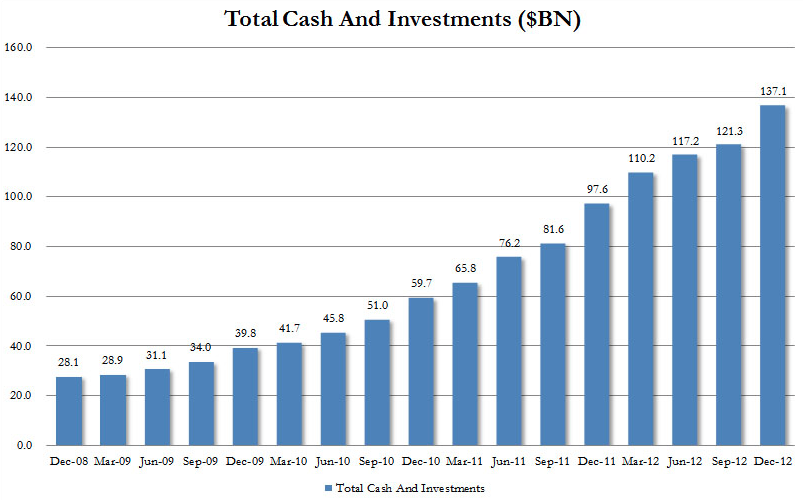 Apple's total cash position, is bigger than the entire market capitalization of Facebook (NASDAQ:FB), Hewlett-Packard (NYSE:HPQ), Dell (NASDAQ:DELL), Pandora (NYSE:P) and Netflix (NASDAQ:NFLX) combined.
"We're pleased to have generated over $23 billion in cash flow from operations during the quarter," said Peter Oppenheimer, Apple's CFO. "We established new all-time quarterly records for iPhone and iPad sales, significantly broadened our ecosystem, and generated Apple's highest quarterly revenue ever."
Investor Insight: David Einhorn Q4 Letter: I'm Still Long These 5 Big Investments