Ackman Gives Up on J.C. Penney, Apple Hooks Up With Icahn: Market Recap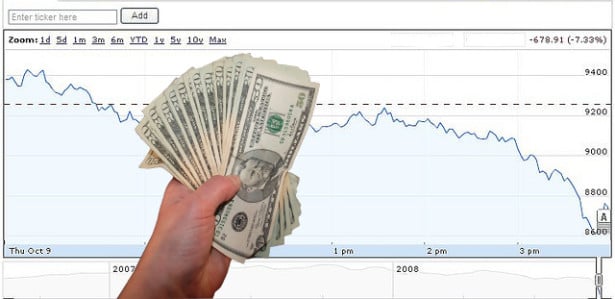 U.S. stocks rose Tuesday on data that retail sales are slowly picking up, indicating that the economy may be recovering. Officials from the Federal Reserve as well as economists and investors will be scrutinizing any and all economic data for signs that qualitative easing should be ended. According to data from the Commerce Department, retail sales rose 0.2 percent for the month of July, down from 0.6 percent in June.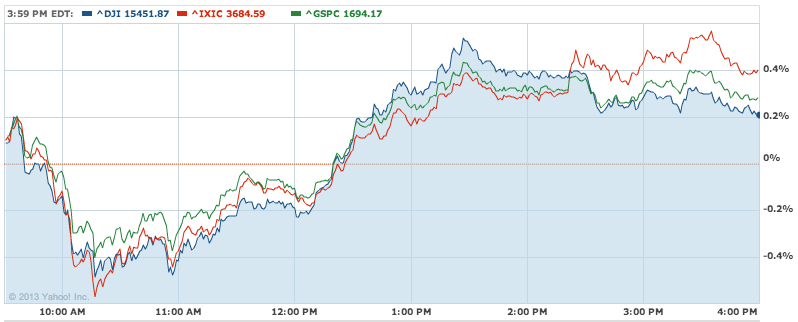 Gold: -0.97% to $1.321.30 per ounce; Oil: +0.42% to $106.56 per barrel; U.S. 10-Year: +4.22 to 2.715%.
U.S. Budget Deficit: Smaller, But Not Small Enough: The United States budget deficit for July increased 40 percent compared to the month a year ago to $98 billion, according to the U.S. Treasury. Total spending increased 17 percent over the same period to $298 billion while total receipts increased 8.4 percent to $200 billion… (Read more.)
Price Pressures Remain Soft as Fed Mulls Monetary Policy: With U.S. monetary policy in the spotlight, many investors have their eyes glued to the same economic indicators that the U.S. Federal Reserve is watching: unemployment and inflation, both of which are meandering toward targets established earlier in the year. Unemployment is trending lower and inflation is trending higher, and according to Fed projections the economy looks like it is one to two years away from a reasonable definition of "healthy…" (Read more.)
U.S. Economy to Consumer: Please Spend More: That retail sales in the United States increased in July for the fourth straight month signals that the U.S. economy is recovering from the hit it was dealt by January's tax hike and March's across-the-board federal spending cuts. Yet, the fact they rose a meager 0.2 percent indicates that consumers spent cautiously in July and that the economy has remained relatively weak after a tough spring… (Read more.)
Here's your cheat sheet to Tuesday's top stocks stories:
AMR Corp.'s (AAMRQ.PK) American Airlines merger with US Airways (NYSE:UAL) has gotten closer and closer to being completed in recent months, but now, after months of negotiations, the proposed merger is being blocked by the U.S. Department of Justice. The merger would have created the world's largest airline and significantly reduced competition in the U.S. airline market… (Read more.)
BlackBerry's (NASDAQ:BBRY) future remains uncertain for now, as the company announced Monday that a special committee has been sanctioned to consider BlackBerry's current options for the future, which include joint ventures, partnerships, asset sales, and a sale of the company itself. Investors and shareholders are already making statements about their desired path of action. Especially vocal is BlackBerry's top shareholder, Fairfax Financial Holdings, with a 9.9 percent stake… (Read more.)
J.C. Penney (NYSE:JCP) has lost its most vocal and occasionally antagonistic board member. Pershing Square Capital Management's William Ackman launched a two-letter complaint at the company's board of directors last week in which he detailed a strongly worded demand for a new chief executive to be found as soon as possible, and on Tuesday the board member has resigned his post… (Read more.)
Yum! Brands (NYSE:YUM) announced late on Monday that July same-store sales in China plunged an estimated 13 percent. That includes an estimated decline of 16 percent at KFC and a modest 3 percent gain at Pizza Hut. Analysts expected a drop of only 7.1 percent. In comparison, sales at stores open for at least one year declined 10 percent in June… (Read more.)
Apple (NASDAQ:AAPL) is apparently getting cozy with activist investor Carl Icahn. Icahn on Tuesday announced (via Twitter, apparently) that his fund had taken a "large position" in Apple and suggested that the company's stock is still "extremely undervalued," an argument that has been on the tip of the tongue for many investors ever since shares dropped below $500 early in the year… (Read more.)
BP (NYSE:BP) senior executives informed Bloomberg's Paul Barrett that a significant portion of the company now effectively acts as a law firm, handling the energy producer's lengthy legal docket and ongoing regulatory hurdles that the 2010 oil spill caused. The most recent addition to BP's litigation agenda is the lawsuit the company filed Monday in the U.S. District Court in Houston against the Environmental Protection Agency… (Read more.)
Follow Jacqueline on Twitter @Jacqui_WSCS
Don't Miss: Price Pressures Remain Soft as Fed Mulls Monetary Policy.