After Only Four Years, iPhones Have Outsold Macs
In interesting data released this week by Asymco, Apple (NASDAQ:AAPL) has apparently sold more iPhones than Macs in its entire history. What's even more amazing about that number is that the iPhone has only been around for about four years, while the Mac has been in existence for seven times as long.
In its twenty-eight year history, Apple has sold 122 million Macs.  Just last year alone, Apple sold 156 million iOS devices, which covers both iPad and iPhone, still better than the total number of Macs. In a lot of respects, while Apple has been historically considered a computer company, these numbers reflect its now growing perception as a general technology company.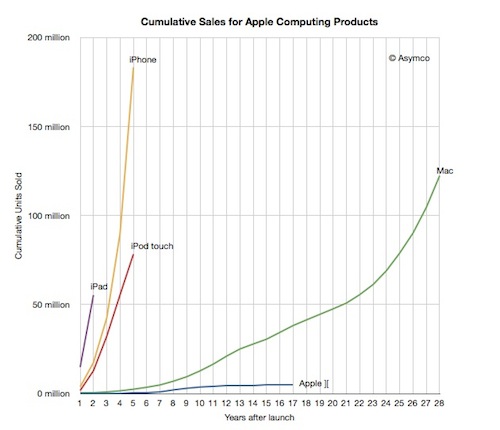 Of course, these numbers don't reflect overall profitability. Macs, historically have been priced at better than a thousand dollars per model, while iPads and iPhones have typically retailed in the mid-hundred range or better.
Here's how shares of Apple are trading on the news:
Apple Inc. (NASDAQ:AAPL): AAPL shares recently traded at $503.26, up $1.05, or 0.21%. They have traded in a 52-week range of $310.50 to $526.29. Volume today was 11,990,430 shares versus a 3-month average volume of 13,448,600 shares. The company's trailing P/E is 14.34, while trailing earnings are $35.14 per share.
To contact the reporter on this story: Jonathan Morris at staff.writers@wallstcheatsheet.com
To contact the editor responsible for this story: Damien Hoffman at editors@wallstcheatsheet.com