Airline Merger Approved, Dish Results Are a Pleasant Surprise: Market Recap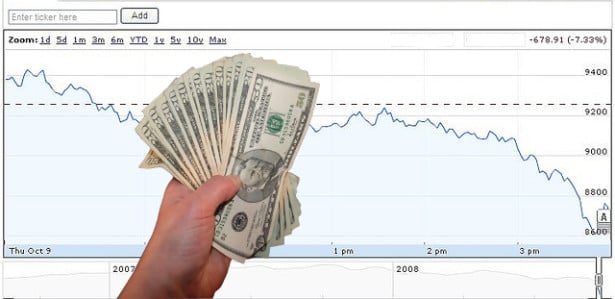 U.S. stocks fell during trading on Tuesday as continued positive economic data caused investors to forecast that the Federal Reserve will begin cutting stimulus in December. Better-than-expected economic data and corporate earnings suggest that the economy could withstand tapering from the central bank. Economists expected the Fed to wait until March to begin curbing its bond purchases due to economic uncertainty in the wake of the partial government shutdown in October, but data suggest that the shutdown didn't hurt the economy so badly after all.

Gold: -0.99% to $1,268.40 per ounce; Oil: -2.18% to $93.07 per barrel; U.S. 10-Year: +0.62 to 2.768%.
Retailers Prepare for Jingle Hell: Short Holiday Shopping Period: Holiday shopping: a sprint or a marathon? Unfortunately for retailers this year, it's both. It's no secret that U.S. retailers depend largely on holiday sales to boost their revenues. Studies report that the shopping season usually generates 30 percent of annual sales, and companies do all they can to take advantage. However, this year, a shortened shopping period coupled with a slowing economy has retailers worried that the season won't be as lucrative as periods past… (Read more.)
Sorry, Economy, Consumers Are Still Income-Constrained: Perhaps more concerning for retailers than the six-day shorter holiday shopping period is the fact that consumers remain cautious spenders, keeping their outlays to immediate necessities and the occasional big-ticket item like a house or a car. Incomes grew in September by half a percentage point, likely due to an increase in government wages, which had been depressed in previous months because of employee furloughs. But while the gain beat expectations, it was still modest… (Read more.)
Big Pharma and Big Tobacco Won't Control the Marijuana Industry: The role that established pharmaceutical and tobacco companies will play in the (soon-to-be) legal marijuana market is one that crops up in nearly every conversation about the industry. It just seems so natural that Philip Morris (NYSE:PM) or Pfizer (NYSE:PFE) — with earnings in the billions, extensive experience navigating the regulatory labyrinth, and established distribution channels — would jump at the opportunity to enter the marijuana market… (Read more.)
Here's your cheat sheet to Tuesday's top stocks stories.
US Airways (NYSE:LCC) and AMR Corp.'s (AAMRQ.PK) American Airlines have finally had their merger approved by the U.S. Justice Department. US Airways and American will be allowed to merge and create the world's largest airline after making some divestitures of takeoff and landing slots at several airports. Now that they've reached an agreement, US Airways, American Airlines, and the DoJ won't be going to a trial scheduled for November 25… (Read more.)
Dish Network (NASDAQ:DISH) showed that it gained more subscribers, which provided the company with more revenue in the third quarter. Dish reported that it gained 35,000 new pay-TV customers in the third quarter, which compares favorably to expectations for a loss of about 39,000 customers, bringing total pay-TV customers to 14.049 million. Dish's average revenue per pay-TV customer increased 5.3 percent to $81.05, while the subscriber churn rate decreased to 1.65 percent from 1.8 percent in the year-ago period… (Read more.)
News Corp (NASDAQ:NWS)(NASDAQ:NWSA) and 21st Century Fox (NASDAQ:FOX)(NASDAQ:FOXA) began trading separately over the summer, and enthusiasm for News Corp has increased, with investors bidding up shares a little more than 15 percent before first-quarter results were released. But the fact that Rupert Murdoch's News Corp reported a steeper-than-expected 2.8 percent decrease in revenue showed the impact the loss of its more profitable counterpart — Fox — has had on the publishing business… (Read more.)
T-Mobile US (NYSE:TMUS) announced late on Monday that it's planning a stock offering of almost $2 billion in order to raise cash for "general corporate purposes," including buying more wireless spectrum to improve and expand its 4G network. T-Mobile will offer 66.15 million shares in the offering, a figure that amounts to $1.8 billion based on the stock's closing price of $26.97 on Monday. T-Mobile wants to continue expanding its 4G network as it seeks to compete more aggressively with AT&T Inc. (NYSE:T) and Verizon Communications (NYSE:VZ)… (Read more.)
Apple Inc. (NASDAQ:AAPL) quietly began taking preorders for the iPad mini with Retina display on Tuesday morning. Cantor Fitzgerald recommended that people looking to purchase one of the devices place their order soon, as the firm is expecting shortages over the holidays. Rumors that Apple is facing heavy production shortages of the device have been making the rounds for a while and were seemingly confirmed when Apple chose not to announce the date that the new iPad mini would be available… (Read more.)
Google Inc. (NASDAQ:GOOG) has unveiled a new feature for Google Glass, adding support for music with a "listen to" command that will allow access to songs in the Google Play store and give the device a SoundHound-like function that can identify a tune being played aloud. The wearer can name a song or an artist to listen to through Google Play or even link a Google Play account to Glass to access preferences and playlists… (Read more.)
Follow Jacqueline on Twitter @Jacqui_WSCS
Don't Miss: Together At Last: Justice Department Approves US Airways-American Airlines Merger.