Almost D-Day for BlackBerry: Sink or Swim?
No one quite knows what to expect for BlackBerry's (NASDAQ:BBRY) earnings report, due to come out Friday. Though many analysts have offered forecasts of how the company's new breed of BlackBerry devices are shipping around the world, their predictions are quite scattered, as you can see from The Wall Street Journal's graphic. While some only believe the quarterly shipments will come to 2.75 million, others are more optimistic with 4 million. The highest estimate is the Societe Generale's with a 5 million shipment prediction.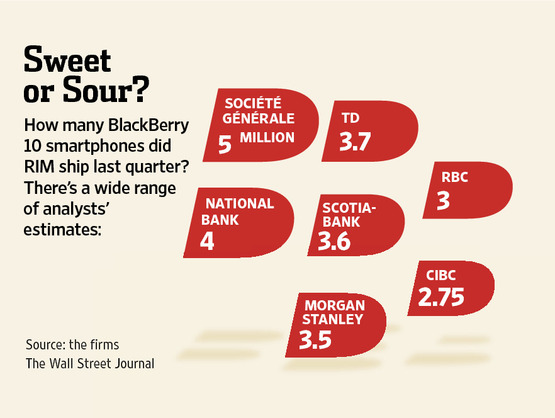 The company's new BlackBerry devices are in essence the company's last ditch effort to save the smartphone maker. Though the touch screen Z10 isn't expected to offer stiff competition to Apple's (NASDAQ:AAPL) iPhone or Samsung Electronic's own breed of smartphones, it should be able to at  least stand in the way of some of Microsoft Corp's (NASDAQ:MSFT) sales of its Windows Operating system with its partner, Nokia Corp (NYSE:NOK).
Although things have looked ominous for BlackBerry — its smartphones sales from February to April only accounted for less than 1 percent of total sales — analysts are interested to see if the Waterloo, Ontario-based company can turn itself around.
And its new Z10 provides just a glimmer of hope. BlackBerry shares have surged 50 percent this year and its sales in the first fiscal quarter were surprisingly optimistic. The company even deemed the Z10′s sales in Canada and U.K. the "best ever," but admittedly failed to be specific. Friday's report will be the first look into how the Z10 has performed in the U.S. market, and sufficed to say, it could be decisive news for the company. Will the BlackBerry sink or swim?
Among those most impacted by the report will undoubtedly be BlackBerry Chief Executive Thorsten Heins who took over the company in January 2012. His main focus has been on the BlackBerry 10 — the new operating system — and new phones like the Z10 and keyboard- equipped Q10.
Though the Z10 has been selling in Canada and the U.K. for most of the year, it debuted later in the U.S. market. The Q10 on the other hand went on sale in some markets in May, but was only rolled out in the U.S. earlier this month. That is why Friday's results won't also reflect the Q10′s sales in the U.S.Analysts have been optimistic about the Q10′s success, while BlackBerry has conspicuously remained mum on its sales figures.
Inevitably, Friday will be a big day for BlackBerry. The Wall Street Journal reports that analysts expect a quarterly revenue of $3.3 billion from BlackBerry and a profit of 5 cents a share.
Don't Miss: Telefonica Wants to Challenge Apple-Google "Duopoly"