Amazon Is Hiring, Saks Acquired by Hudson's Bay: Market Recap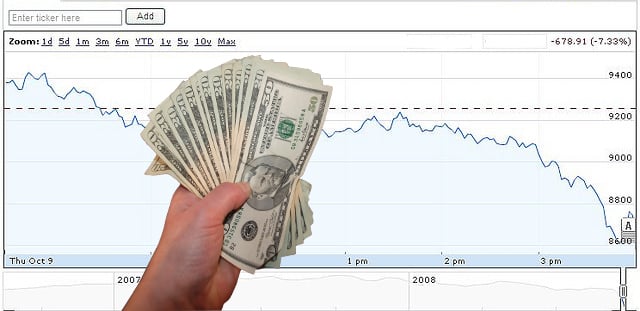 U.S. stocks fell today, following a report that showed fewer Americans bought homes in June. Investors are also being cautious before the Federal Reserve meeting later this week, which will be held to discuss when the central bank should begin to taper stimulus. The Fed's statement on the matter is due on Wednesday.

Gold: +0.52% to $1,328.40 per ounce  Oil: +0.08% to $107.00 per barrel  U.S. 10-Year: +0.94 to 2.585%
The Young and the Jobless Are Still Feeling the Recession's Side Effects: The side effects of the Great Recession are still being felt across the nation. Several economic indicators have improved in recent years, but the employment situation remains anemic, especially for young adults… (Read more.)
Will China's Slowdown Hurt the U.S. Economy?: The United States has been the world's largest economy since 1871. For some context, the nominal value of U.S. economic output in 2011 was $14.99 trillion, about 22 percent of the world's total economic output. This has made economic conditions in the U.S. monumentally important to the global economic system: when the U.S. faces recession, the world economy slows down, and when it's booming, the world prospers alongside it… (Read more.)
Dividends and Lending: EU Banks Wait on Europe: Banks in Europe are eagerly awaiting regulators to allow them to pump up their dividends, highlighting the disconnect between the economic necessities of Europe and the reality of lending conditions facing financial firms… (Read more.)
Here's your cheat sheet to today's top stocks stories: 
Amazon.com Inc. (NASDAQ:AMZN) announced it's hiring 7,000 new employees across the U.S., as the company works to make good on its promises to ship items quickly and provide excellent customer service. Amazon said in a statement that it is creating 5,000 new full-time jobs in the U.S. to help meet consumer demand… (Read more.)
Saks Inc. (NYSE:SKS) is being purchased by Hudson's Bay Company in a $2.4 billion deal that will put Saks, Lord & Taylor, and Canadian department store Hudson's Bay together under the same company. Saks, which was founded in New York in 1924, still hasn't fully recovered from the massive hit it took during the recession, but the company is optimistic about the opportunities Hudson's Bay will give its stores… (Read more.)
Dell (NASDAQ:DELL) has been stuck in a tug-of-war between founder Michael Dell and billionaire investor Carl Icahn that will last yet another week.  Shareholders are now scheduled to vote on Dell's $24.6 billion buyout offer Friday… (Read more.)
Barclays (NYSE:BCS) will announce its half-year earnings this week. Barclays has been putting the final touches on its plan to meet stricter U.K. capital rules. When it lays out its plans this week, Barclays is expected to either raise equity or sell convertible bonds that would help the company deal with possible future losses… (Read more.)
Perrigo Co. (NASDAQ:PRGO) will acquire Irish biotech company Elan Corp. (NYSE:ELN) at a price of $8.6 billion, after the latter had put itself on the block after turning down a previous suitor. Perrigo makes private-label cold remedies, infant formula, and allergy treatments for retailers. The deal will allow Perrigo to take advantage of Ireland's lower tax rates.
Apple's (NASDAQ:AAPL) upcoming budget iPhone, or "iPhone Lite," has had more leaked photos emerge online. Like many other previous leaks, this latest image comes courtesy of the China-based WeiPhone forums via Apple Insider. The image shows a bin full of white, plastic iPhone packaging that is labeled "iPhone 5C." (Read more.)
Follow Jacqueline on Twitter @Jacqui_WSCS