Amazon Jabs Apple, Claiming New Kindle Is 'Lighter Than Air'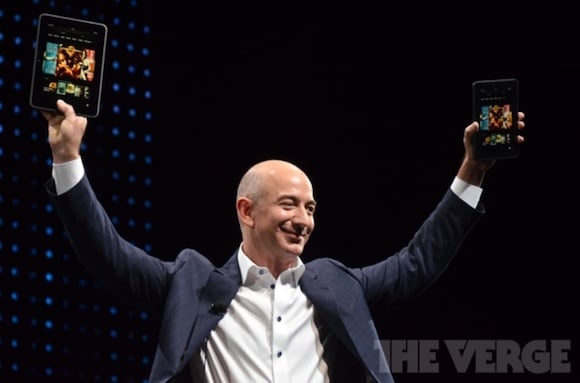 Amazon.com Inc. (NASDAQ:AMZN) is taking a direct shot at Apple's (NASDAQ:AAPL) new iPad Air by advertising on its site that the Kindle Fire HDX is "Lighter than Air" — even though Amazon's tablet achieves the lighter weight with a smaller screen size, Apple Insider reports.
Apple dropped nearly half a pound off its 9.7-inch iPad with the iPad Air, bring the full-size iPad down to a weight of just one pound. Amazon's Kindle Fire HDX is indeed lighter, with a weight of 0.82 pounds, but achieves that weight with a screen size of just 8.9 inches. Amazon's smaller tablet also comes out lighter than the iPad mini 2 for the same reason. The new iPad mini has a 7.9-inch screen and weighs 0.73 pounds, while Amazon's 7-inch Kindle weighs just 0.66 pounds.
Apple unveiled its new line of iPads at a media event in San Francisco on Tuesday, and analysts were pleased with what they saw. Cantor Fitzgerald analyst Brian White reaffirmed his price target of $777 after attending the event, which he said stood up to the hype of showing off the most significant improvements to the iPad lineup since the device was introduced in 2010.
Amazon introduced its new Kindle Fire HDX tablets in September, and if Amazon's got anything on Apple, it's definitely price. The new iPad Air with Wi-Fi and 16GB of memory costs $499, while the iPad mini 2 with the same specifications costs $100 less. The 8.9-inch Wi-Fi Kindle Fire HDX with 16GB costs $379 and the 7-inch is $229, making both of Amazon's new tablets more than $100 less than Apple's versions.
The Kindle Fire HDX also includes some snazzy new features designed to seduce customers away from Apple, which currently dominates the tablet market. They include a customer-help function called Mayday that gives users having trouble with the tablets a direct video conference with an Amazon representative, who could remotely control the tablet if needed. Amazon's new Kindle Fires have an 11-hour battery life, while the new iPads only boast 10 hours.
The main challenge Amazon faces is with apps. Many of the popular apps for iOS and Google's (NASDAQ:GOOG) Android aren't available on the Fire OS operating system that the Kindle runs on, while the new iPads can run all your favorite iOS apps.
Follow Jacqueline on Twitter @Jacqui_WSCS
Don't Miss: Apple's Focusing on China With New iPad Release.