Amazon Raises the Bar With New Kindle Fire HDX Tablets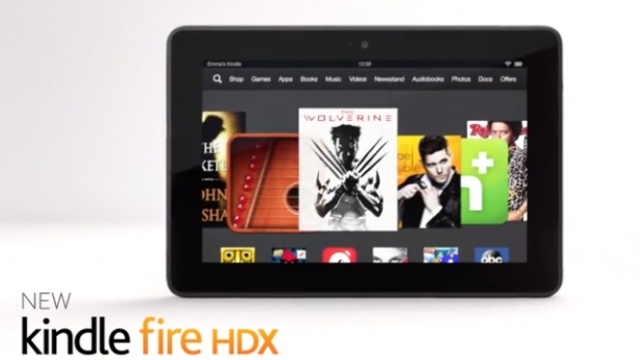 Amazon's (NASDAQ:AMZN) latest entries into the compact and full-size tablet markets are vast improvements over its previous tablet iterations, according to several prominent tech reviewers. Amazon released the 7-inch Kindle Fire HDX tablet on October 18, while the 8.9-inch model was made available on November 7.
As noted by Tony Bradley at Forbes, the original Kindle Fire was a "good enough" utilitarian device that provided basic tablet functions without exceeding users' expectations. On the other hand, Bradley found that the Kindle Fire's screen could be unresponsive. He also noted the original device lacked a camera and Bluetooth connectivity.
However, Bradley noted that both of the new Kindle Fire HDX models have much more responsive touchscreens as well as Bluetooth connectivity. Both devices also feature 1.2-megapixel front cameras, while the 8.9-inch version also comes equipped with an 8-megapixel rear camera that is capable of shooting 1080p high-definition video and photos.
The new 2.2-gigahertz quad-core processor and 2GB of RAM also provides both Kindle Fire HDX tablets with vastly improved processing capabilities. Forbes' Bradley wasn't the only tech reviewer to be wowed by Amazon's new Kindle Fire HDX tablets. CNET's Eric Franklin called the Kindle Fire HDX 8.9 "the standard for a media consumption tablet."
However, the most dramatic improvements in the new Kindle Fire HDX models are related to the display. As noted by Bradley, the 7-inch Kindle Fire HDX has a resolution of 1920 x 1200, which gives the display a pixel density of 323ppi (pixels per inch). The Kindle Fire HDX 8.9 has an even more impressive resolution of 2560 x 1600, for a pixel density of 339ppi.
Although these high technical display resolution specifications give the Kindle Fire HDX a sharper display, it should be noted that any pixel density above 325ppi is undetectable in normal viewing situations. According to display testing and calibration company DisplayMate, "With about 325 Pixels Per Inch, at normal viewing distances a person with 20/20 Vision can't resolve the individual pixels." In this sense, Amazon's increase to 339ppi for the 8.9-inch Kindle Fire may have been an exercise in futility.
However, DisplayMate found that Amazon's Kindle Fire HDX displays were impressive for other reasons. The display testing company noted that Amazon was the first company to implement "Quantum Dots" technology in its tablets. According to DisplayMate, this "revolutionary display technology" gives the Kindle Fire HDX a 100 percent color gamut as well as improved power efficiency. For this reason, DisplayMate called Amazon's Kindle Fire HDX 7 the "most impressive of all" the new small form tablets on the market today.
Although DisplayMate ranks the Kindle Fire 7 above Apple's (NASDAQ:AAPL) iPad mini with Retina display and Google's (NASDAQ:GOOG) new Nexus 7, it remains to be seen if Amazon can make a dent in Apple's majority share of the worldwide tablet market. According to IDC data, Apple is the biggest tablet vendor, with a 29.6 percent share of the global tablet market in the third quarter of 2013. On the other hand, Amazon doesn't even rank in the top five and was grouped with other minor tablet vendors in the "Others" category by IDC.
Here's how Amazon closed out Friday's shortened trading session.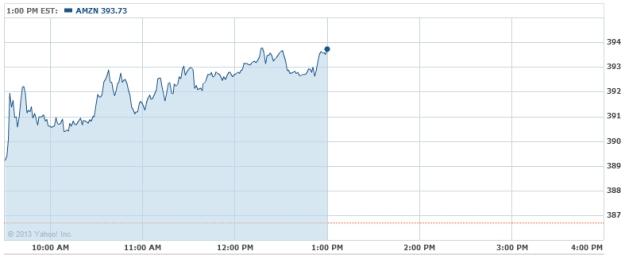 Follow Nathanael on Twitter (@ArnoldEtan_WSCS)
Investing Insights: Where Will Hewlett-Packard Go Post-Earnings?