An End to Powering Down Electronics During Air Travel?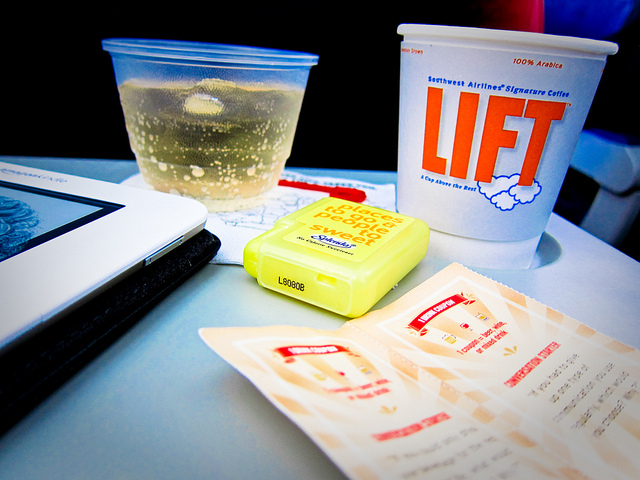 Are you one of the many air travelers annoyed at having to power down electronics before a plane's takeoff or landing? If so, it looks like the long-practiced air travel rule is nearing an end under certain circumstances.
Device makers led by Amazon.com (NASDAQ:AMZN) claimed a victory in the battle over inflight electronic power-downs as Federal Aviation Administration chief Michael Huerta said that it will allow airlines to expand the rules regarding electronics use in certain situations. Now, the ability to use Amazon products like the Kindle or Apple Inc.'s (NASDAQ:AAPL) iPad or iPhone will depend on what airline you're flying, what specific device is being used, the type of aircraft you're on, and the type of weather outside.
On Friday, JetBlue Airways Corp. (NASDAQ:JBLU) and Delta Air Lines Inc. (NYSE:DAL) announced that they had become the first two airline carriers to allow electronics powered up throughout the entirety of a flight. The initial rules from the FAA will allow passengers to keep smartphones, tablet computers, and MP3 players on throughout a flight as long as "airplane mode" — a common setting on Amazon and Apple devices — is turned on. This means that fliers can read, watch, or listen to content stored directly on their device at all times, and they even have the ability to surf the web at altitudes below 10,000 feet on flights with Wi-Fi service enabled.
Designed to decrease inference with flight controls, radios, and navigation equipment, the FAA currently prohibits nearly all personal electronic devices while a plane is below 10,000 feet, much to the ire of fliers who are forced to shut off Apple devices like the iPhone or iPad. Calls and text messages via mobile phones will remain forbidden on flights even as the new FAA rules take effect, as they deal with a separate interference issue related to ground networks.
JetBlue has already qualified its fleet for passenger electronics, and in an emailed statement to Bloomberg, the airline is planning on adding Wi-Fi service to some planes by the end of the year (JetBlue currently doesn't offer Wi-Fi on flights). Delta has allowed all domestic passengers to keep their electronics powered up as of 4:15 p.m. New York Time Friday, except on flights operated by regional carriers under contract with Delta, airline spokesman Paul Skrbec said.
But the Air Line Pilots Association — North America's largest union for flight crews — has raised questions as to whether the policy can be enforced properly, issuing the statement, "We remain concerned that relying on passengers to selectively turn off their devices in areas of extremely poor weather is not a practical solution." While flight attendants from American Airlines welcomed the change, tired of "feeling like hall monitors," a group of flight attendant unions at United, US Airways, and several other carriers called for standards in the policy to reduce passenger confusion.
As Bloomberg points out, most aircraft in service have passed tests showing that they are immune to radio waves emitted from devices and the new FAA policy updates laws put in place in the 1960s. "I did feel that, like any regulation that has been around for a long time, the world has changed a lot in the last 50 years, so let's take a look," Huerta said. But West Virginia Senator Jay Rockefeller raised his concerns to congress, explaining, "Having access to e-mail or a movie is not worth compromising the safety of any flight."
Don't Miss: The NSA Snafu Could Cost the U.S. Tech Industry Billions.