An Interactive Map of Apple's Suppliers
While most of Apple's (NASDAQ:AAPL) suppliers are indeed in southeast Asia (80 percent), and particularly China, there are also many sources located in North America, South America, Europe, and Australia — as ChinaFile and Tea Leaf Nation recently revealed in a visual aid entitled "Who Supplies Apple (It's Not Just China): An Interactive Map." The map combines information from Apple's official Supplier Responsibility Report with more in-depth research.
"Really, we just took information that's out there," explains David Barrera, photo editor for ChinaFile. "We became aware that Apple publishes this work at the end of January…I think that this information has been reported on previously, but displaying it visually lets readers see it in another way, hopefully a more tangible, real way."
Viewers might be surprised to learn, for example, that there are 76 suppliers in the United States as well as ones scattered throughout Italy and even Israel. "So many people, when they think Apple, they think 'Made in China,'" observes Barrera. "Yes, there are a bunch of suppliers in China, and a bunch in Asia, but you zoom in and see it really spread around the globe."
Here's how Apple has traded so far in 2013: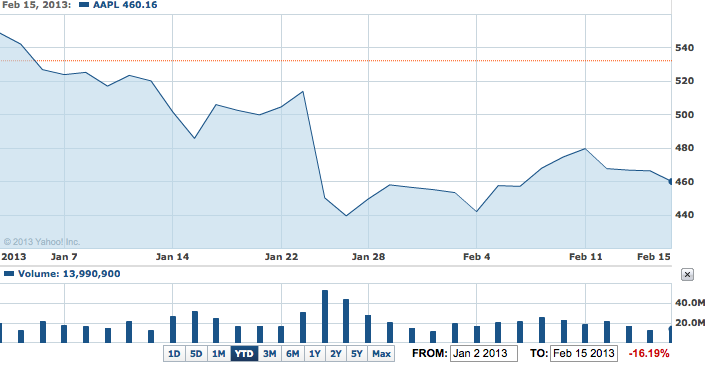 Don't Miss: Analyst: iPad Upgrades Coming Before April.