Analyst: 3 Ways Apple Can Make More Money
Apple's (NASDAQ:AAPL) enormous base of user accounts could become a significant future source of revenue for the company according to an analysis done by Morgan Stanley's Katy Huberty. The analyst notes that Apple's account base of 500 million users is second in size only to Facebook's (NASDAQ:FB) user base of approximately 1 billion.
However, Apple's user base is growing at a faster pace than other online retailers and generates more revenue per user. The Cupertino-based company's user base grew by 55 percent in 2012 and each user generates the company an average of $329. This surpasses second-ranked Amazon's (NASDAQ:AMZN) average revenue of $305 per user account and is significantly higher than the $125 that third-ranked eBay (NASDAQ:EBAY) derives from each of its user accounts.
Based on this rate of growth, Huberty estimates that Apple's user base may reach as high as 600 million users this year. She notes that Apple could drive its future revenue growth merely by expanding the number of services that it provides through its ecosystem of products. Here are the three potential areas that Apple may soon exploit to increase its user base revenues.
1. iPhone E-Wallet and Electronic Payments
Recent patent filings have revealed that Apple continues to explore the possible use of the iPhone as a virtual smart e-wallet. Besides allowing consumers to use their iPhones as a handy payment method, the e-wallet could also keep track of all the different variables that can determine which payment method is best for a particular purchase.
Apple has been rumored to be working on a fingerprint sensor for the iPhone 5S ever since it bought AuthenTec — a mobile and network security company — last summer. Huberty believes that the next iPhone may include a fingerprint sensor which could be used as a secure method for processing electronic payments.  An e-wallet may also be used in conjunction with near field communication, or NFC, technology. Although Apple's current iPhone model utilizes Bluetooth in lieu of NFC, this technology may be installed in the next iteration of iPhone in order to take advantage of this expanding retail shopping technology.
2. Streaming Music or iRadio
Another future service that Apple may soon offer its user base is a music streaming service. Rumors of Apple's "iRadio" service have been around since last year. However, after music companies balked at Apple's original lowball royalty figure in March of this year, it now appears that negotiations are beginning to move forward. Apple was able to sign Universal Music to a deal in April, and has also reportedly just recently signed a deal with Warner Music.
Huberty estimates that if only 40 percent of Apple's current user base embraces iRadio, the service could potentially generate $883 million in annual revenue for the company. However, if 50 percent of Apple's user base adopts iRadio, this could mean potential annual revenues of $1.1 billion.
Apple's proposed music streaming service aims to combine elements of Pandora's (NYSE:P) ad-based service, along with some on-demand features. Many commentators are predicting that Apple may debut this new music streaming service at this year's Worldwide Developers Conference, or WWDC.
3. Apple Ad Exchange
Finally, Huberty believes Apple could further monetize its user base my instituting an ad exchange. According to an anonymous advertising industry executive via Business Insider, Apple is looking into creating an ad exchange that would be enfolded into iAd, Apple's current mobile ad network. An ad exchange would increase the amount of money that Apple could generate for its ad impressions by providing advertisers with the tools to tailor advertisements specifically to an Apple user's interests.
Huberty notes that this could also have a beneficial spillover effect on Apple's overall ecosystem. "Users benefit from potentially lower pricing for apps and services if developers make some of their money from ads. The ad experience could also be a lot better as the design and relevancy of ads improve. They could become more tasteful (like fashion magazines) rather than annoying (many ads in Web browsers)," states Huberty via Apple Insider.
Morgan Stanley maintains a $540 price target for Apple stock. Here's how Apple has been trading so far this week.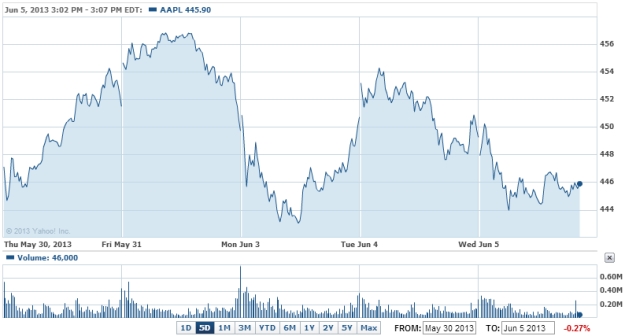 Follow Nathanael on Twitter (@ArnoldEtan_WSCS)
Don't Miss: Is This an Early Glimpse of Apple's iOS 7?