Analyst: Android Smartphones Will Undercut Apple iPhone Sales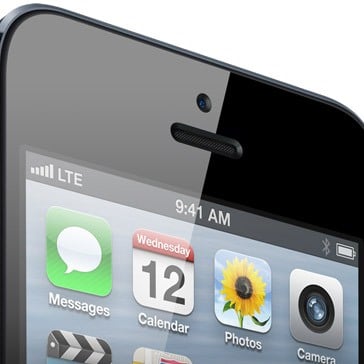 Will Apple (NASDAQ:AAPL) soon be overwhelmed in the smartphone market by an overseas flood of cheap Android devices?  Nomura Equity Research analyst Stuart Jeffrey shared his vision of a future worldwide smartphone market that is dominated by low-cost Android devices via Barron's.
Jeffrey recently revised his 2013 smartphone sales numbers from 844 million to 954 million based on the increasing popularity of low-cost smartphones that utilize Google's (NASDAQ:GOOG) Android platform. The Nomura analyst notes that Android-based smartphones that are priced below $100 are especially popular in the Asia-Pacific region. Due to the increased affordability of these phones, Jeffrey foresees a 13 to 16 percent increase in worldwide smartphone sales in 2014.
The low-cost smartphone phenomenon will spread as China-based vendors increase the amount of smartphones that they export. "Chinese vendors exported 7 percent of their smartphone production in 2012 and see this rising to 36 percent in 2014E," wrote Jeffrey.
This does not bode well for Apple, which makes a high-cost premium smartphone that has relatively little market penetration in Asia-Pacific. The Android operating system also seems to be much more entrenched in the Asian market than iOS.
Jeffrey notes the multiple disadvantages that Apple has in his analysis, "The drivers of our higher growth estimates are ones to which Apple appears to have no exposure, at least not currently. These drivers include: seeing APAC [Asia-Pacific] driving 70-79 percent of growth; Apple's 1Q13 APAC share was 13 percent; 'Good enough' Android phones priced at $100 and below are driving most of the growth; Apple has no exposure to this segment; 5-inch screen sizes are driving the higher-priced market segments, a segment where Apple has no exposure; Local application development in APAC is focused on Android, giving Android a big competitive advantage over Apple."
Jeffrey also sees little improvement in Apple's immediate future prospects. He believes a low-cost iPhone that is expected to cost around $400 would not address the below $100 market segment that is driving Asia's growth. BlackBerry (NASDAQ:BBRY), which uses its own proprietary operating system, would also lose smartphone sales in this scenario. Finnish smartphone maker Nokia (NYSE:NOK), which uses Microsoft's (NASDAQ:MSFT) Windows Phone platform for its high-end smartphones, would also lose market share in Jeffrey's predicted future market.
So what companies will benefit in Jeffrey's future scenario? Obviously smartphone makers that use Google's Android platform, such as Samsung (SSNLF.PK) and HTC, stand to gain in this scenario. Jeffrey also foresees that chip maker Qualcomm (NASDAQ:QCOM) will see a related jump in its royalty payments from these smartphones.
Jeffrey has a Neutral rating on Apple stock and a target price of $420. Here's how Apple has traded over the past week.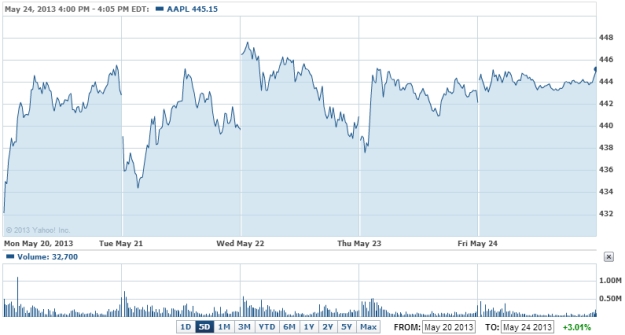 Follow Nathanael on Twitter (@ArnoldEtan_WSCS)
Don't Miss: Analyst: iPad Sales Will Tank in Q2.