Analyst: Apple Desperately Needs These Catalysts
Despite the malaise characterizing the majority of analyst opinions written over the past month, most analysts covering Apple's (NASDAQ:AAPL) stock hold either a buy or a strong buy rating. For the sake of comparison, 44 analysts have their ratings set at a buy or strong buy, while 10 maintain a neutral rating and 3 hold an underperform or a sell rating. A few analysts have even reiterated positive commentary about the company's prospects, and Avondale's John Bright is one of them.
Writing in a research note on Monday, Bright raised his rating to Market Outperform from Market Perform, and reiterated his price target of $600, a figure just slightly below the mean target of $602.96. Shares of Apple closed at $390.53 on Friday, following last week's tumble, so his target predicts an increase of close to 54 percent.
While the Avondale analyst believes that Apple's earnings are deteriorating — his firm cut its 2013 earnings-per-share estimate from $45.58 to $42.66 — he wrote that the stock already reflects increasing competitive pressures and tough margin compression. The problems holding back its stock price are the result of the ever-growing smartphone market rather than inherent problems with the company and its innovative process, as other analysts have suggested…
In fact, with a few caveats, Bright hypothesized that Apple will return to earnings growth of 10 percent to 15 percent by October. But this growth depends on whether or not the iPhone maker inks a deal with China Mobile (NYSE:CHL) and its 726 million wireless subscribers and relies on new product launches, including a lower-cost iPhone, a roll-out of mobile payment capabilities, and a smart TV.
The main problem that Bright sees with Apple is that its shares are oversold; its stock is trading at 9 times and 8 times Avondale's earnings-per-share estimates for the 2013 and 2014 calendar years, respectively, which translates a discount to its peers of approximately 14.5 times and 12 times estimates despite, the fact that the company has experienced similar growth.
In his opinion, the worse case scenario predicts that Apple's corporate gross margin will drop from its current 38 percent to 35 percent by the end of fiscal 2013, which will translate to a $5 to $10 hit to the $42.66 earnings-per-share estimate the firm has made. If the gross margin falls to that extent, Avondale predicts that the stock could tumble as low as $350 per share. However, here too, there is a mitigating factor; if margin pressure is driven by a high-volume product, like a low-cost iPhone, sales growth is likely to offset the margin impact.
Here's how Apple (NASDAQ:AAPL) traded Monday: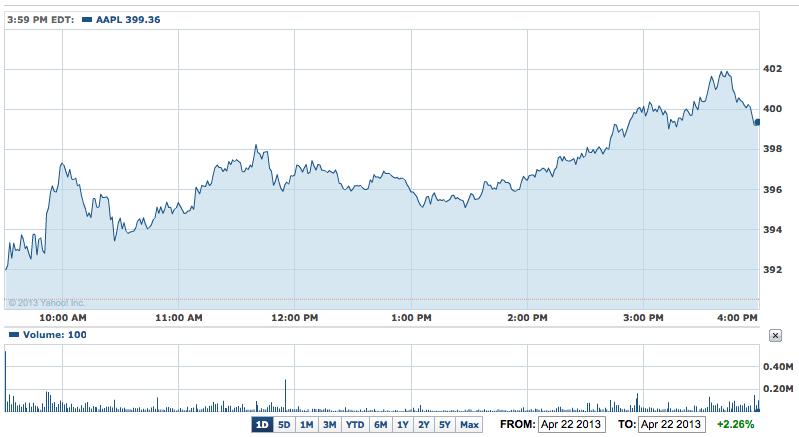 Don't Miss: Is Apple's Future Hidden in This Market?