Analyst: Apple Feels Profit Margin Pressure
Is Apple (NASDAQ:AAPL) cutting prices in an effort to increase its footprint in the lucrative Greater China market? UBS analyst Steve Milunovich thinks Apple is making even more of an effort to secure a strong presence in the Chinese market by reducing its profit margins. China, which has the second largest economy in the world, has become increasingly important to Apple's future.
However, Milunovich notes that Apple's profit margin in this crucial market has decreased to 33.9 percent in the March quarter from 49.5 percent in the same quarter last year. This is also a 3.3 point reduction from the profit margin levels in the first quarter of this fiscal year.
Via Barron's, Milunovich states that "This result may be the first harbinger of trading off margin to boost volumes in China, which CEO Tim Cook has said could become Apple's largest country."
On the other hand, even if Apple reduces its profit margin, it will still be at a significant disadvantage in the Chinese market when the costs of its devices are compared to cheaper phones made by companies such as Samsung (SSNLF.PK) and LG.  However, the price point obstacle can be overcome if Apple is able to partner with a large Chinese carrier and simultaneously introduce a low-cost iPhone.
Milunovich envisions this strategic move into China's market when he states "China Mobile (NYSE:CHL) support of the iPhone 5 with a reasonable subsidy is critical to growing earnings in F2014. We also expect a lower-end phone to target Chinese buyers at a gross margin not far from the current corporate average."
Milunovich also believes that the rising cost of goods sold and a "bump in warranty accruals" has also added to Apple's reduced profit margins. The "warranty accruals" Milunovich cites could refer to Apple's recent settlement with consumers over its warranties on iPhones with a 3M (NYSE:MMM) moisture indicator tape.
It could also be a reference to Apple's recent restructuring of its warranty coverage in the Chinese market in response to government-led criticism. For these reasons, the analyst believes that "On a sequential basis, we estimate increased accruals contributed over one point of margin pressure, likely masking some improvements Apple has made in executing its cost reduction road map."
Besides probing Apple's profit margins, Milunovich also presented his model for Apple's expected debt issuance. Apple is expected to borrow money in order to fund its increased dividend payouts and share buyback program. Milunovich assumes this debt will be $40 billion and that Apple will continue to annually generate $11.5 billion in cash. Based on these figures, Milunovich predicts via Barron's that "the increased interest expense lowers our EPS by less than 0.5 percent annually over the next several years."
Based on his analysis of Apple's recent quarterly report, Milunovich reiterated a $500 price target and a Buy rating for Apple shares.
Here's how Apple has traded throughout the week.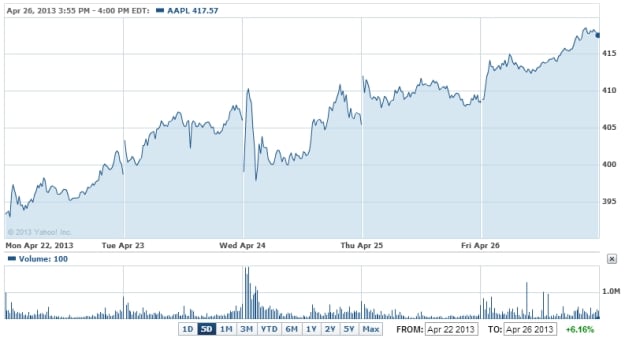 Don't Miss: Apple Suppliers Learn Not to Keep All Eggs in One Basket.