Analyst: Apple Has Found Supplier Wisdom!
Apple (NASDAQ:AAPL) is taking an old adage to heart and not keeping all its eggs in one basket, by further diversifying its supply chain, report industry sources. Yuanta Financial Holdings analyst Vincent Chen believes Apple is placing low-cost iPhone orders with Pegatron in order to lessen the risk of delays if one of its major suppliers should run into production problems, reports Bloomberg. Last year Apple reportedly had issues with getting enough iPhone 5 units when one of its suppliers had production delays.
Is Apple now a once-in-a-decade buying opportunity? Click here to get your 24-page Ultimate Cheat Sheet to Apple's Stock now!
Although Apple is increasing its orders to Pegatron, it still relies heavily on Hon Hai Precision Industry, also known as Foxconn. Pegatron already makes the iPad mini for Apple in two locations in China. Hon Hai has multiple production facilities in China and Brazil, according to Apple's supplier report.
Arthur Liao, an analyst at Fubon Financial Holding, believes the low-cost iPhone may be released in the upcoming quarter. Liao states that the low-cost iPhone will have a plastic casing and will be constructed of older and cheaper components, including a lower resolution camera and the A5X processor. The cheaper components will be approximately $30 less than the parts for the iPhone 5, which will allow Apple to sell the device at about $300 to $350. Liao states that the plastic casing will be made by Hon Hai and Jabil Circuit (NYSE:JBL).
Although Yuanta's Chen believes that Pegatron will benefit from the low-cost iPhone orders from Apple, he also thinks the manufacturer may initially lose money as it goes through the growing pains of expanding its production output. Fubon's Liao states that Pegatron has the ability to make around 3 million iPhones a month.
Although he declined to comment on the low-cost iPhone rumors, Pegatron Chief Financial Officer Charles Lin told Bloomberg that "every new project or product has a learning curve." As usual, Apple refused to comment on any supply chain rumors.
NEW! Discover a new stock idea each week for less than the cost of 1 trade. CLICK HERE for your Weekly Stock Cheat Sheets NOW!
Here's how Apple has traded so far this week.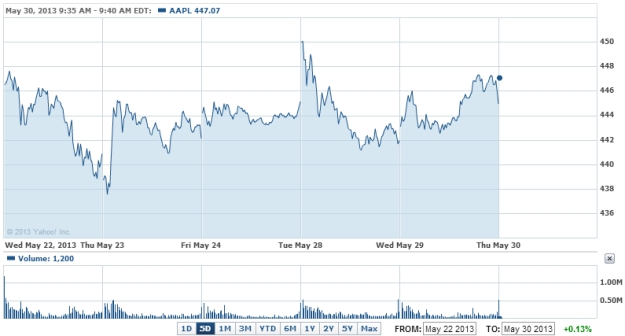 Follow Nathanael on Twitter (@ArnoldEtan_WSCS)
Don't Miss: Apple's Mobile Devices Are Still Advertisers' Best Friends.