Analyst: Apple Has Presents for Shareholders!
Shareholders can look forward to getting some cash presents from Apple (NASDAQ:AAPL) in the coming days, according to Barclays Capital analyst Ben Reitzes. Reitzes wrote in a note to investors on Friday that with investor pressure having gone up on the company in the recent days, and peaking with David Einhorn's statement on Thursday, the company was ready to open its safe.
In addition, with the stock moving downward over the last few months, Apple had been spurred into additional urgency. One-third of Apple's value has disappeared from September last year as its stock price continues to drop.
"We believe that prospects are increasing for even more cash to be returned to shareholders from Apple given shareholder pressure, prospects for strong cash generation, and the recent sell-off in shares," Reitzes wrote. "We believe that shareholder pressure is only set to intensify."
According to the analyst, Apple was likely to increase its cash-return program — started last year at $45 billion to be paid over three years — by between 30 percent and 40 percent without even using its overseas cash or incurring tax liabilities. He estimated free cash flow of $44.29 billion this fiscal year and $51.07 billion in the next.
Here's a depiction of Apple's cash flow growth from Asymco: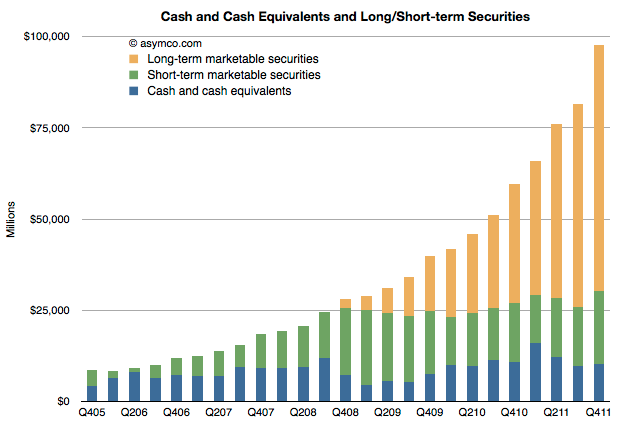 The announcement could be made around or on Apple's annual shareholder meeting takes scheduled for February 27, Reitzes added.
The analyst, who has an Overweight rating on Apple and a $575 price target, noted that while first announcing its dividend and share repurchase program in March last year, the company had indicated it would periodically discuss updating the amount.
"In addition, the board of directors authorized a $10 billion share repurchase program that began in Apple's fiscal year 2013," he wrote. "The repurchase is expected to be executed over three years primarily to neutralize the impact of dilution from future employee equity grants and employee stock purchase programs."
Don't Miss: Apple Now Stands Alone in E-Book Case.