Analyst: Apple Needs More Rich People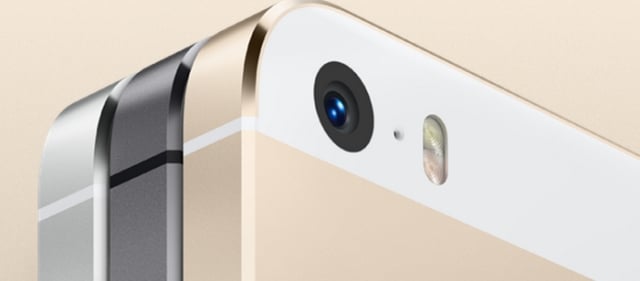 Has Apple (NASDAQ:AAPL) painted itself into a high-end smartphone market corner? In a new report titled "Are There Enough Wealthy People in the World to Sustain iPhone Unit Growth?" Bernstein analyst Toni Sacconaghi argues that Apple is running out of potential customers by limiting its smartphone product line to the high-end segment of the market, reports MarketWatch.
Sacconaghi predicts that Apple will fail to meet consensus forecasts for the next two fiscal years unless it finds 125 million new iPhone buyers in that time period. According to the analyst's data, most the iPhone sales over the last three years have been from first-time iPhone buyers.
Since there are a limited number of first-time buyers that will purchase a high-end smartphone, Sacconaghi believes that Apple will soon be unable to sell enough iPhones to fulfill consensus expectations. Cook reiterated Apple's commitment to making high-end devices when he recently told Bloomberg Businessweek that, "We're not in the junk business."
"On balance, while many things can change and Apple could ultimately eclipse our iPhone expectations for the next two years, the fact remains that only a finite number of users globally can afford a $450+ smartphone, and most of them already own such a device, meaning that growth will invariably continue to slow for Apple's iPhone business, particularly once carrier additions are complete," wrote Sacconaghi via MarketWatch.
Although Sacconaghi raises some interesting questions about the future growth of iPhone sales, it should be noted that the majority of the smartphone profits are in the high-end segment of the market and it is still not clear if that segment has reached saturation. "I don't subscribe to the common view that the higher end if you will of the smartphone market is at its peak. I don't believe that but we will see and we will report our result as we go along," said CEO Tim Cook during Apple's third quarter earnings call.
Here's how Apple traded over the past five trading sessions.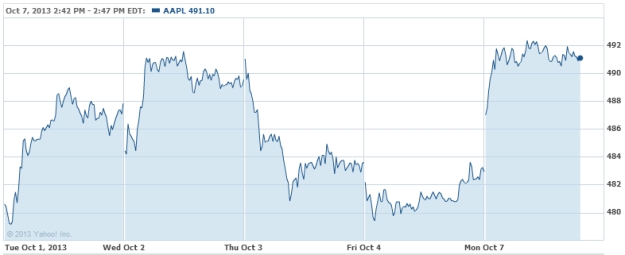 Follow Nathanael on Twitter (@ArnoldEtan_WSCS)
Don't Miss: Samsung to Obama: Treat Us Like You Treat Apple.