Analyst: Apple Needs to be Less Stingy
The percentage of Apple's (NASDAQ:AAPL) projected total return to shareholders versus its huge cash holdings is much below average for technology companies, according to Morgan Stanley analyst Katy Huberty.
Apple's projected return of free cash flow of 36 percent, which includes dividends and stock buybacks, is well below the average of 68 percent for IT companies in the Standard & Poor's 500, Huberty writes in a research note, according to Barron's.
Raising it to average industry levels would lead to a 6 percent yield for investors, she calculates, amounting to $28 billion annually. Apple currently has plans to return $45 billion over three years, which comes to an average $15 billion every year.
Adding an additional $13 billion annually is "a viable option given our conservative free cash flow estimates assume Apple generates $21 billion of [domestic] free cash flow this year and would still end the year with $36 billion of US cash on hand," she adds.
According to the analyst, a higher cash return from Apple would also act as a "catalyst" for the company's share price, which has lost a third of its value since reaching record highs in mid-September. It would also draw in value investors…
"Improved cash return could draw value investors who currently own just 2 percent of Apple shares versus 12 percent ownership of large-cap IT software and hardware companies," the analyst writes. "Growth funds lowered ownership from 45 percent two years ago to 33 percent today while value investor ownership only increased from 1 percent to 2 percent."
An increase in stock buyback also had an advantage of boosting earnings for the company, says Huberty, who has an Overweight rating on Apple shares and a $630 price target.
Stock buybacks maintain financial flexibility and could improve fiscal year 2013 earnings per share outlook as every $5 billion adds roughly 1 percent to earning per share growth, she calculates.
Here's how Apple (NASDAQ:AAPL) has traded in the past 5 trading sessions: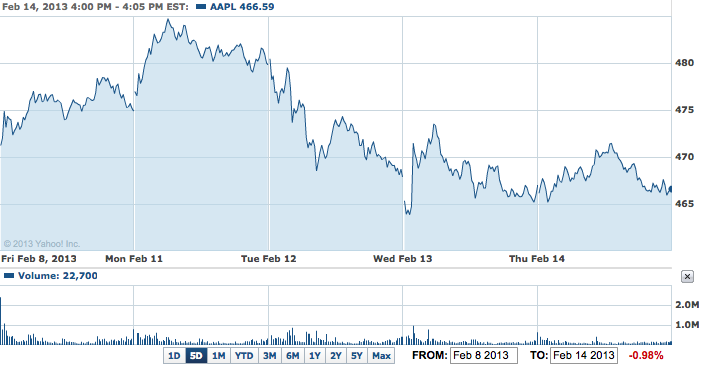 Don't Miss: Apple: We Want to Empower Investors.