Analyst: Apple Will Hit $274 In Six Months
ACI Research Chief Executive Officer Edward Zabitsky may be one of the most notorious Apple (NASDAQ:AAPL) bears out there. Three years ago, when the stock was trading around $200 and deep in the throes of an uptrend, he put a Sell rating on the stock and has maintained his position ever since.
It's not hard to do some math that suggests Zabitsky's Sell rating was premature, to say the least. Just to get it out of the way: even with 35 percent losses on the chart over the past six months, Apple stock is up 125 percent since February of 2010. At maximum, investors who bought when he said to sell could have realized a 250 percent return on their money.
That said, Zabitsky is sticking to his guns and maintains a $274 price target on Apple shares, a 40.6 percent downside on Tuesday's closing price of $461.14. For comparison, the mean analyst target is $618.72, a 34.2 percent upside from the same price. The most bearish of the estimates going into that average is $420, while the most bullish is $888. Just one analyst out of the 46 has a Sell rating on the stock, while 2 have an Underperform rating.
All in all, it would seem that no matter how much the stock has been beat up over the past few months, Wall Street disagrees with Zabitsky. Speaking to MarketWatch, Zabitsky explained his reasoning…
When asked if his $274 price target was still too pessimistic, Zabitsky said that while it's a 12-month target, he expects to see it realized in as soon as three to six months. "The reason I started to make noise was the rise of Samsung (SSNLF.PK)," he said. Three years ago concerns that Samsung would rise to challenge Apple as the leader in the smartphone market were brushed off.
"If you say that now," Zabitsky continued, "it's not challenged." Recent data from IDC supports this, showing that Samsung had a 21.2 percent share of total smart connected device shipments in the fourth quarter of 2012, while Apple clocked in with a 20.3 percent unit shipment share.
However, while Samsung may have a larger shipment share, Apple is the king of revenue with a 30.7 percent share that dwarfs Samsung's 20.4 percent share.

Here's how Apple (NASDAQ:AAPL) traded on Wednesday: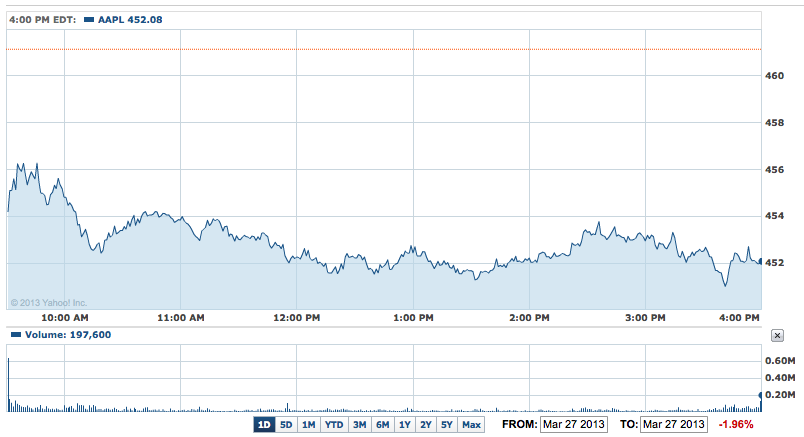 Don't Miss: Apple is Getting Sued Over Siri Again.