Analyst: Apple's High Prices Is Its Achilles' Heel
Are Apple's (NASDAQ:AAPL) high prices a weakness?  It's been said that the bigger they are, the harder they fall. When it comes to Apple, one analyst believes that the higher the prices, the greater the fall. Max Wolff, chief economist and senior analyst at GreenCrest Capital, sees trouble ahead for the Cupertino-based company and most of his dire predictions revolve around Apple's premium pricing.
A recent Washington Post report revealed that Apple and eight other major U.S. Internet companies are involved in a secret government surveillance program known as PRISM. Although Americans using any operating system should be concerned about their privacy, Wolff notes that Apple users may be particularly outraged.
"Google (NASDAQ:GOOG) is the free ecosystem and Facebook (NASDAQ:FB) is a walled garden, but at least it's free. If you're paying more to be in the Apple ecosystem, and if you find out that your privacy is no more sacred than it is anywhere else, that actually is problematic," Wolff told CNBC.
Similarly, Wolff believes that Apple's high-end products make it more vulnerable to charges of tax evasion. CEO Tim Cook recently appeared before the Senate Permanent Subcommittee on Investigations as it looked into Apple's overseas tax practices. Although Apple wasn't charged with any wrongdoing, Wolff believes that "the tax issue is not going away." He notes that many "progressivey" people are Apple owners and that their concerns about Apple's shady tax practices will continue to dog the company.
One benefit that users derive from Apple's premium products is the seamless integration of their iOS and OS devices into Apple's overall ecosystem of products and services. Presumably this convenience is one of the reasons that Apple's products are priced higher than its competitors. However, Wolff notes that Google is currently working on integrating its Chrome operating system with its Android platform.
"Even if you think Google's product is less good, then $1,500 worth of Apple products nicely duplicates it. It is $1,200 less good? For a lot of people that's not a question mark, because they don't have $1,200," notes the analyst via CNBC.
Will Apple eventually collapse under the weight of its burdensome product pricing? Although Wolff raises some interesting points, many of his arguments seem to overlook the fact that not every consumer is overly concerned with paying a premium for Apple's products. It is likely that there will always be a consumer market for Apple's high-end devices, whether or not some people believe that the higher price is truly worth it. Here's how Apple closed out the week.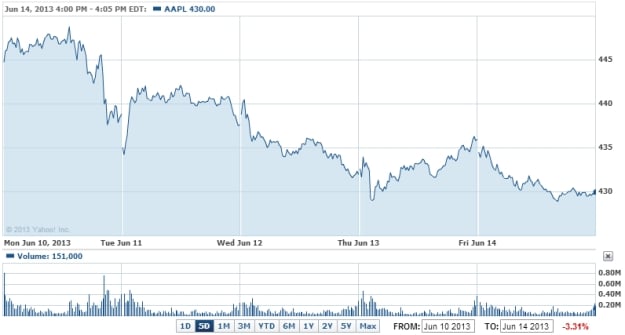 Follow Nathanael on Twitter (@ArnoldEtan_WSCS)
Don't Miss: Dan Frommer: iOS 7 Is the Fresh Start Apple Needed.