Analyst: Apple's iPhone 5C Sales Lower Than Expected

Well-connected KGI Securities analyst Ming-Chi Kuo has lowered his iPhone 5C sales estimate for the September quarter, reports Business Insider. Kuo cut his original estimate by 33 percent and is now forecasting sales of 11.4 million iPhone 5C units for Apple's (NASDAQ:AAPL) fourth quarter of fiscal year 2013.
The analyst also lowered his iPhone 5C sales estimate for the December quarter. Kuo predicts that Apple will only sell 10.4 million units of the iPhone 5C in the company's first quarter of fiscal year 2014. However, according to Business Insider, Kuo is unclear if this will impact his overall iPhone unit estimate since there still a strong demand for the iPhone 5S and iPhone 4S.
It should be noted that Kuo has a fairly good track record when it comes to Apple analysis. Although Apple's iPhone launch weekend sales beat his prediction by 1 million units, his estimate was closer than many other analysts' predictions of around 6 million units.
Kuo's lowered iPhone 5C sales estimate also lines up with a recent report from China's CTech website via MacRumors. According to CTech's supply chain sources, Apple has slashed iPhone 5C production orders in half from 300,000 to 150,000 units per day.
Kuo's lowered sales estimates and the rumored production cut also aligns with the iPhone 5C's price drop in China's grey market. As noted by Unwired View, the grey iPhone market is especially sensitive to price adjustments based on actual consumer demand for the product. Although the official cost of an off-contract iPhone 5C in China is approximately $726, the device can currently be purchased on the grey market for anywhere from $489 to $539, reports Unwired View.
Although Apple will reveal its September quarter earnings on October 28, it is unlikely that the Cupertino-based company will disclose how many of each model of iPhone it sold. However, some early indicators suggest that Apple's iPhone 5S was far more popular, especially in China. According to data from mobile app analytics firm Localytics, 91 percent of the iPhone activations during the first 72 hours of availability in China were from the iPhone 5S.
Here's how Apple has traded over the past five trading sessions.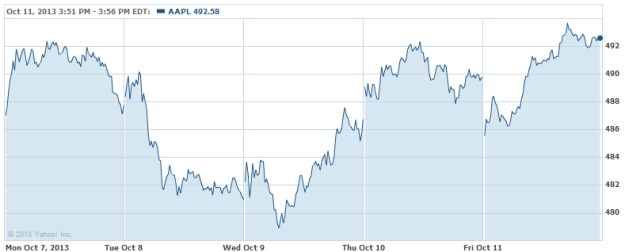 Follow Nathanael on Twitter (@ArnoldEtan_WSCS)
Don't Miss: Could the Government Shutdown Delay Your Next Smartphone?