Analyst: Apple's iPhone Market Share Is Small, But Valuable

Are mobile industry watchers overemphasizing the importance of market share? In a recent note to investors obtained by Apple Insider, Needham & Co. analyst Charlie Wolf argued that Apple's (NASDAQ:AAPL) iOS mobile platform is in a better position than Google's (NASDAQ:GOOG) Android, despite the relatively small size of Apple's share of the overall mobile phone market.
As noted by Wolf, Apple's share of the combined feature phone and smartphone market in 2012 was 9.2 percent. Although the analyst believes that Apple's share will increase this year, it will still likely remain below 10 percent. Similarly, according to data from market research firm Gartner, Apple's share of the worldwide smartphone market was 12.1 percent in the third quarter. Meanwhile, Android secured an 81.9 percent share of the smartphone market. However, Wolf pointed out that Google's Android trails Apple in other, more important, metrics.
"Observers, seduced by the simplicity of the metric, have elevated market share as the sole driver of financial performance to a position that far exceeds reality," wrote Wolf in a research note obtained by Apple Insider. "Indeed, there appears to be no correlation between market share and the viability of a platform. In surveying the variables that determine the viability of a platform, we would argue that the breadth and depth of the platform's application library and ecosystem play a far more important role than does market share."
One example of the "breadth and depth" of Apple's ecosystem is its App Store that has generated rapid and consistent revenue growth ever since it debuted in 2008. During Apple's recent fiscal fourth-quarter earnings call, CFO Peter Oppenheimer noted that, "Cumulative app downloads have reached 60 billion and our app developers have now earned 13 billion from sales to the App Store, half of which they've earned in the last year." Apple also consistently beats Android in terms of mobile online shopping and other valuable mobile platform activities. This was especially evident during this year's Black Friday holiday shopping rush.
According to data from the cloud-based IBM (NYSE:IBM) Digital Analytics Benchmark, over 82 percent of the total number of online mobile sales during Black Friday came through Apple's iOS. On the other hand, Google's Android only accounted for approximately 17.5 percent of all mobile sales. So why is there such a significant profit gulf between Android and Apple users? Wolf noted that most Android-based smartphones are actually being used as feature phones. Renowned mobile industry analyst Horace Dediu recently made a similar observation on Bloomberg TV.
Dediu pointed out that many Android users' first phones were basic phones "that were really feature phones that had Android running on them and were not used as Internet devices." In this sense, a large portion of Android's smartphone market share could more accurately be described as feature phone market share. For these reasons, Wolf believes that the importance of market share is overemphasized in many analysts' views on Apple. "Instead of being an end-all and be-all metric, then, market share is simply one of many in the scheme of things," wrote Wolf via Apple Insider. Here's how Apple has traded over the past five sessions.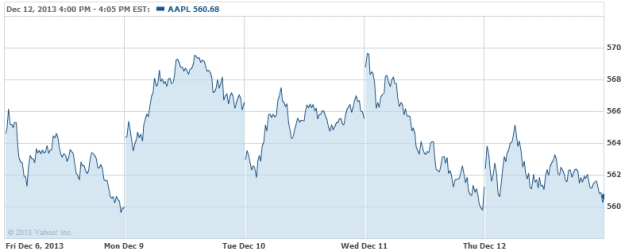 Follow Nathanael on Twitter (@ArnoldEtan_WSCS)
Don't Miss: Analyst: Apple's iPhone 5S Dominates U.S. Smartphone Sales.