Analyst: Apple's iPhone Will Dominate U.S. Market by 2017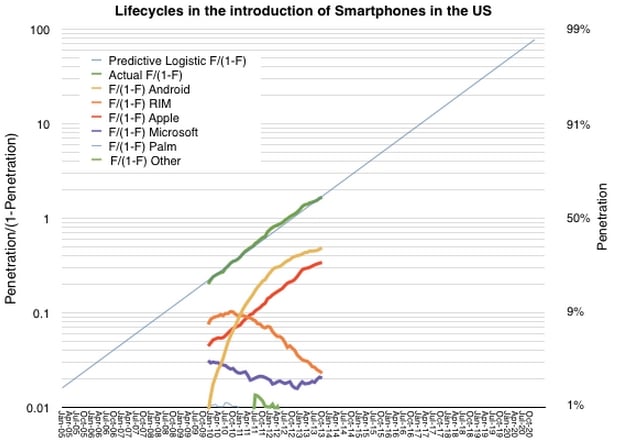 A renowned mobile industry analyst has predicted that Apple's (NASDAQ:AAPL) iPhone will account for over two-thirds of the entire U.S. smartphone market by 2017. Asymco analyst Horace Dediu based his conclusion on a predictive growth model that compared the pattern of growth for Apple's iPhone to the growth of the overall U.S. smartphone market. Dediu previously worked as an industry analyst and business development manager at Finnish smartphone maker Nokia (NYSE:NOK) before founding Asymco, and he is often consulted by various news media as an expert on Apple.
As noted by Dediu, the iPhone's pattern of growth is remarkably similar to the pattern of growth for the overall U.S. smartphone market. The analyst believes this is because, "consumers are absorbing the product in similar way to how they are absorbing the technology." Other smartphone vendors tend to demonstrate faster or slower rates of growth because, "they are not communicating value with the consumer but with manufacturers or distributors of the product."
According to Dediu's growth model, the U.S. smartphone market will reach saturation, or 90 percent penetration, by 2017. If Apple's iPhone market share continues to grow at a similar rate to what has been seen so far, 68 percent of U.S. smartphone users will own an iPhone by February 2017. As noted by Dediu, this would be equivalent to approximately 180 million iPhone owners out of a smartphone market population of around 226 million.
According to the latest U.S. smartphone market data from comScore, about 149.2 million people in the U.S. owned smartphones during the three-month period that ended in October. As noted by comScore, that number represents about 62.5 percent mobile market penetration.
Apple ranked as the top OEM (original equipment manufacturer) with a 40.6 percent share of the U.S. market during the three-month period that ended in October. On the other hand, Google's (NASDAQ:GOOG) Android continued its reign as the No. 1 smartphone platform with a 52.2 percent share of the platform market. However, as Dediu recently pointed out on Bloomberg TV, many Android users are still using basic phones that are not used as Internet devices. In this sense, many Android smartphones could more accurately be described as feature phones.
Although Dediu's growth model showed that Apple will dominate the U.S. smartphone market by 2017, it is unclear how much market share the California-based company would gain in the worldwide smartphone market by this time. Market research firm Gartner reported that Apple's share of the worldwide smartphone market fell to 12.1 percent in the third quarter from 14.3 percent in the year-ago quarter. However, Apple may regain its lost global smartphone market share in the current quarter due to the recent release of the iPhone 5C and iPhone 5S.
Follow Nathanael on Twitter (@ArnoldEtan_WSCS)
Don't Miss: Apple Censors Anti-Censorship App in Chinese App Store.