Analyst: Apple's Upcoming Hybrid iPad Will Hurt Intel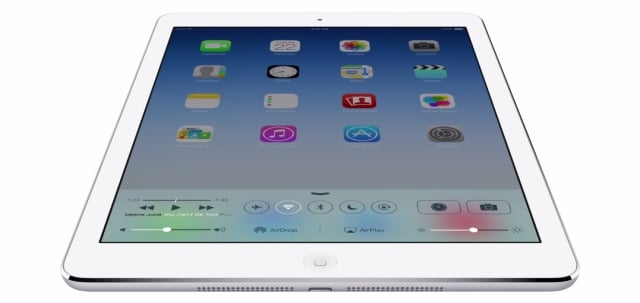 Does Apple's (NASDAQ:AAPL) rumored development of a large-screen hybrid iPad signal trouble ahead for notebook processor maker Intel (NASDAQ:INTC)? According to a recent note to investors obtained by Barron's, Evercore Partners analyst Patrick Wang believes that Apple may unveil a revolutionary 12-inch iPad in the fall of 2014 that will be targeted at enterprise users.
Wang expects that this iPad will operate as a two-in-one hybrid device that combines the iPad's form with the functionality of a MacBook Air "in the same spirit" of Microsoft's (NASDAQ:MSFT) Surface. However, unlike the MacBook Air, the 12-inch enterprise iPad will not rely on an Intel CPU. Instead, the hybrid tablet will use one of Apple's A-series processors.
"Powered by the A8 chip (perhaps 4C), this expands ARM's (NASDAQ:ARMH) reach and, once again, transforms the traditional notebook market as we know it," wrote Wang via Barron's. However, this transformation of the notebook market could negatively impact Intel. "This would hit Intel in an area of strength — enterprise NBs — and open up the monopoly to price competition, a common theme for Intel in 2014," noted Wang.
This shift to ARM-based chips could close a major revenue stream for Intel. The analyst noted that Intel's CPU "represents a significant portion" of the bill of materials for Apple's MacBook Air. According to Wang via Barron's, approximately 22 percent of the MacBook Air's component cost comes from Intel's CPU. In contrast, Apple's A6 processor only accounts for 4 percent of the total bill of materials for a 128GB iPad. Wang gave Intel shares an "Underperform" rating and a $20 price target. Intel shares are currently trading around $25.
Rumors of a large-format iPad were first reported by Korea's ETNews in May 2013. A few months later, the Wall Street Journal bolstered the rumors with its own report about a "new tablet measuring slightly less than 13 inches." Several recent media reports out of Asia have indicated that the new iPad will feature a 12.9-inch, high-definition screen. In November, insider sources cited by the Korea Times reported that a 12.9 inch display was already being manufactured and the new iPad would be released early this year.
Finally, the hit-or-miss DigiTimes reported last month that Apple is planning on releasing a 12.9-inch tablet in October 2014 that will be geared towards North America's education market. Other industry watchers also believe that Apple is targeting the education market with a large-screen iPad that will function as a desktop computer replacement for the traditional PC. Although it is not yet known which specific market Apple is aiming for with the rumored hybrid iPad, it appears that the California-based company's upcoming product may soon alter the traditional computer market.
More From Wall St. Cheat Sheet:
Follow Nathanael on Twitter (@ArnoldEtan_WSCS)