Analyst: Cheaper Phones Are a Curse on Apple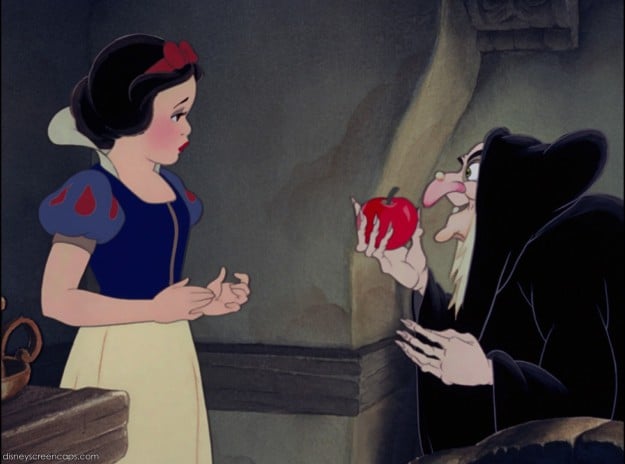 Will the introduction of low-cost mobile device alternatives into Apple's (NASDAQ:AAPL) product line hurt, rather than help, its bottom line? Ever since rumors emerged about the possible introduction of a low-cost iPhone, analysts have been trying to predict the impact that this device would have on Apple's profit margins.
Citigroup (NYSE:C) analyst Glen Yeung believes that the introduction of a cheaper version of the iPhone will help drag Apple's gross margins down later this year. Yeung also believes that Apple may introduce a cheaper iPad model to counter the falling sales of the iPad mini. However, he also believes that the overall mobile device market is inevitably trending towards cheaper devices.
Yeung bases some of his iPhone market predictions on a previous analysis done by his coworker Kevin Chang. Chang's work concluded that "we continue to see weak demand for iPhone 5 but surprising demand sustainability for iPhone 4/4S," reports Barron's. Chang believes that the sustained popularity of the older iPhone models is due to Apple's perceived lack of innovation in the iPhone 5. For this reason, he predicts that Apple will produce 10 million units of the iPhone 4 and iPhone 4S along with 18 million iPhone 5 units this quarter.
For the September quarter, Chang predicts that Apple will produce a total of 39 million iPhone units, which will primarily be made up of the new flagship iPhone 5S model, but will also include 12 million low-cost iPhones. Chang believes that the trend for increased sales of the older and cheaper models of iPhones will continue throughout this year. Via Barron's Chang wrote, "The mix is likely to continue to move toward lower price models and we expect old/low cost models (4/4S and low cost iPhone) to account for around two-thirds of total iPhone shipment in the Dec Q."
Apple may also try to counter the growing impact of low-cost tablets from competitors by introducing a "lower cost iPad Mini in the Dec Q (similar screen resolution with a cheaper mechanical design) priced at around US $200-250, to defend its market share," stated Chang.
Based on Chang's iPhone and iPad modeling, Yeung believes that Apple's gross margins are at risk as the mobile device market trends towards a "lower-end mix." Not only will Apple's gross margins suffer from lower-cost devices, Yeung also notes that "mobile-cellular subscription growth rates are expected to fall to 5.4 percent y/y growth globally in 2013." As overall subscription rates fall, Yeung believes that "the market for new mobile-cellular hardware is now approaching a replacement-only market."
Yeung has a $430 price target and a "Neutral rating" on Apple stock. However, he also notes that the stock currently "represents value at face value, particularly in light of a 2.7 percent dividend yield." Here's how Apple has traded so far this week.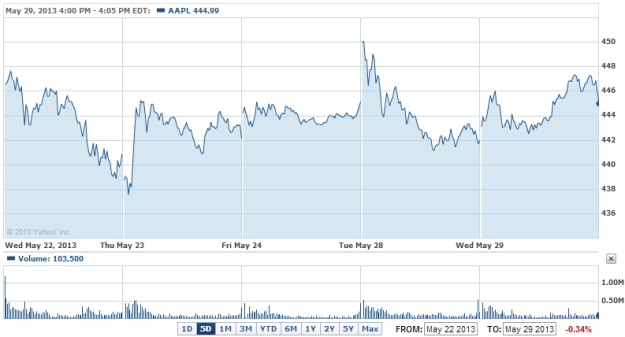 Follow Nathanael on Twitter (@ArnoldEtan_WSCS)
Don't Miss: Apple's Mobile Devices Are Still Advertisers' Best Friends.