Analyst: Expect Multiple iPhone Refreshes Per Year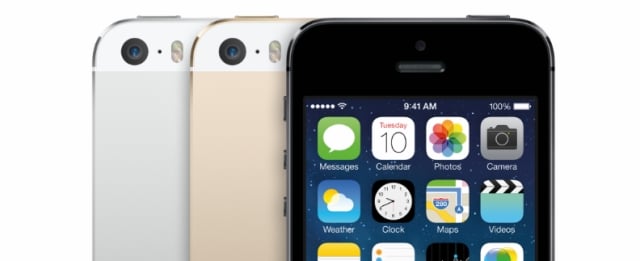 Will Apple's (NASDAQ:AAPL) future iPhone refreshes always be twice as nice? According to Morgan Stanley analyst Katy Huberty via Apple Insider, Apple will likely continue to release multiple iPhone models like it did this year. Apple surprised many industry watchers this year when it split its previously unified smartphone product line by releasing the lower-cost iPhone 5C alongside the flagship iPhone 5S. The plastic iPhone 5C currently starts at $99 with a two-year service contract on Apple's website, while the Touch ID-enabled iPhone 5S starts at $199.
Although some commentators have wondered if Apple's iPhone 5C was just an experimental attempt to penetrate the mid-tier smartphone market, Huberty believes that the iPhone product line split is here to stay. However, Huberty is not basing her iPhone refresh schedule predictions on mere speculation.
The analyst made her observations after having a conversation with CEO Tim Cook and CFO Peter Oppenheimer earlier this week. After talking with the two Apple executives, Huberty called the separation of the iPhone product line "a thoughtful approach," reports Apple Insider.
According to Huberty, Apple will continue its trend of offering "multiple refreshes per year" for the iPhone. However, Huberty doesn't believe that the yearly iPhone refreshes will necessarily take place at one media event like the simultaneous launch of Apple's iPhone 5S and iPhone 5C this year. Instead, she cited the separate iPad 3 and iPad 4 launches in 2012 as an example of how Apple may proceed.
This evolving approach to product refreshes may be one reason why Apple staggered the releases of its latest iPad models. Although the iPad Air has been available since November 1, the iPad mini with Retina display will not be available until "later in November." On the other hand, there have also been several reports that suggest Apple has encountered yield issues with the new iPad mini due to manufacturing problems with the high-resolution Retina display.
Besides offering her predictions for the Cupertino-based company's future iPhone plans, Huberty also shared her thoughts about the growing importance of Apple's services as a source of revenue. According to Apple Insider, Huberty believes that Apple will soon create "new services revenue streams" from the nearly 600 million iTunes customer accounts that it has accumulated. Huberty believes these accounts will likely be linked to Apple's new Touch ID fingerprint sensor to enable a convenient payment system.
Here's how Apple has traded over the past week.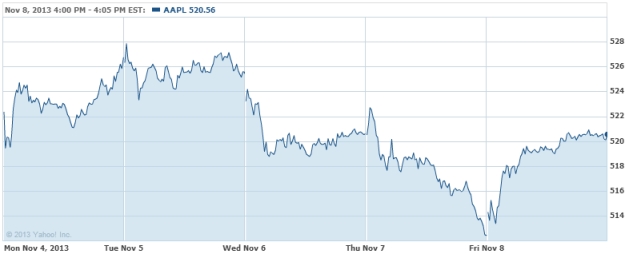 Follow Nathanael on Twitter (@ArnoldEtan_WSCS)
Don't Miss: Apple Barometer Is Through the Roof Before the Holidays.