Analyst: Fewer iPhone Sales, But Higher Margins

BMO Capital Markets analyst Keith Bachman has bumped up his price target on Apple (NASDAQ:AAPL) stock from $480 to $508 despite having lowered expectations for iPhone and iPad unit sales, reports Barron's. Bachman believes that increased margins and a higher-than-expected average selling price for the iPhone 5C more than compensates for his lowered sales expectations.
Thanks to the iPhone 5C's high price, Bachman now assumes, "total iPhone gross margins of 43.5 percent in FY2014 (previously 42.6 percent) and 42.2 percent in FY2015 (previously 42.0 percent)." Bachman also raised his calendar 2014 earnings per share estimate from $41.21 to $42.37.
Besides the iPhone 5C's higher profit margin, Bachman also based his revised outlook on several surveys he commissioned. The analyst commissioned surveys in Germany, the U.S., and the U.K. as well as a focus group study conducted solely in the U.S. The studies supposedly revealed that consumers were "modestly disappointed" in Apple's new iPhones.
According to the analyst's surveys, "percentage purchase intent in the U.S. for both iPhones and iPads is lower than Apple's current market share." However, Bachman also noted that, "purchase intent for iPhones and iPads was above current market shares in both the U.K. and Germany."
Based on this information, Bachman believes that the $55.49 billion consensus estimate for the December quarter may be too high. He noted that the nine million units that Apple reported selling over the launch weekend may have "relied too heavily on sell-in for the iPhone 5C, which is not selling out well, in our judgment."
In other words, consumer demand for iPhone 5C may not be enough to fulfill consensus revenue estimates for the first quarter of fiscal 2014. Bachman reiterated an "Outperform" rating on Apple stock. Here's how Apple traded on Friday.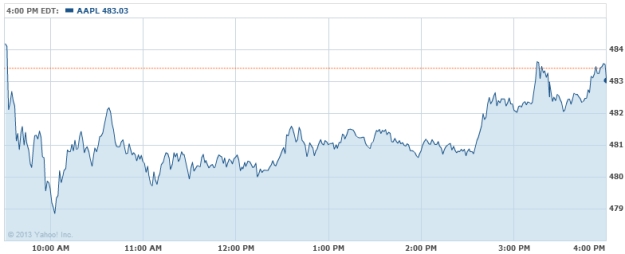 Follow Nathanael on Twitter (@ArnoldEtan_WSCS)
Don't Miss: Will iPhone 5S Motion Sensor Problems Throw Apple Off Balance?