Analyst: Here Are the Tailwinds for Apple's March Quarter
Wells Fargo analysts Maynard Um and Munjal Shah recently took a close look at Apple's (NASDAQ:AAPL) 10-Q and 10-K filings and highlighted several key metrics in order to derive a clearer idea of what the upcoming fiscal year holds for the Cupertino-based company. The analysts focused much of their attention on Apple's upcoming March quarter after noting the "surprisingly flat" deferred margin on component sales. Um and Shah believe Apple will experience "gross margin expansion" in the second quarter of fiscal 2014 based on multiple tailwinds and trends seen in previous years.
As explained by Morgan Stanley's Katy Huberty via Fortune's Philip Elmer-DeWitt, "Deferred margin on component sales represents Apple's component cost advantage relative to spot prices and correlates with Apple's GM." In Apple's fiscal fourth quarter earnings call, CFO Peter Oppenheimer said he expected gross margins "between 36.5 percent and 37.5 percent" this quarter.

The Wells Fargo analysts noted that the "flat" deferred margin on component sales actually makes Apple's "'core' gross margin guidance better" and improves the outlook for Apple's March quarter "because the implied gross margin improvement is less accounting related." According to the analysts, "Every $100 million in reversal would equate to 64bps [basis points] in gross margin, all else equal."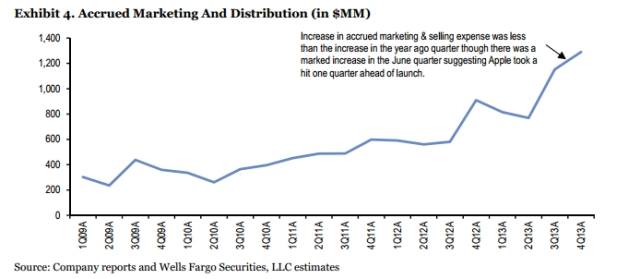 The Wells Fargo analysts also highlighted Apple's accrued marketing and selling expenses. Although the September quarter expenses were lower than the year-ago quarter, the analysts pointed out that the June quarter expenses actually increased. That implies that Apple took a "hit one quarter ahead of launch." Although they are not sure how much is "embedded into guidance," they believe that this will likely be a tailwind for the March quarter as well.
Finally, the Um and Shah highlighted Apple's higher warranty expenses. As reported by Chuck Jones at Forbes, Apple's warranty accruals as a percentage of revenue rose to 2.9 percent in fiscal 2013 from the usual rate of 1.4 to 1.5 percent. The Wells Fargo analysts believe that Apple's "warranty accruals increased at a pace not unexpected" based on the "higher cost structures of products sold in FY2013 as well as the general increase in total installed base." However, they also believe that this is a trend worth keeping an eye on.
Based on Apple's financial reports, the Wells Fargo analysts "modestly adjusted" their fiscal 2014 EPS estimate by 0.6 percent to $44.44 due to "lower deferred margin recognition and growing warranty claims." They also cited several risks for Apple, including "ASP/gross margin pressure, slowing growth, evolutionary versus revolutionary steps in innovation, legal disputes, macro and potential for supply constraints." Um and Shah maintain an "Outperform" rating on Apple stock and a valuation range of $536 to $581. Here's how Apple has traded over the past five trading sessions.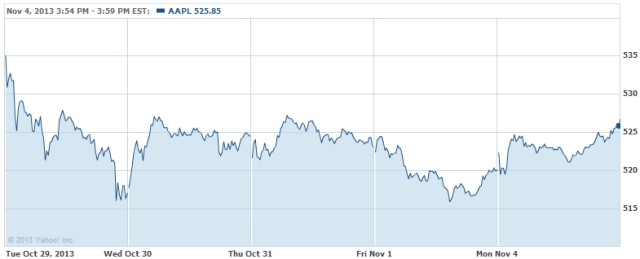 Follow Nathanael on Twitter (@ArnoldEtan_WSCS)
Don't Miss: Was Apple's iPad Air Launch Weekend a Flop?