Analyst: Here's Apple's $80 Billion Opportunity
With a new high-definition television product and a rumored smart watch, Apple (NASDAQ:AAPL) can generate more than $80 billion in global incremental revenue, Morgan Stanley's Katy Huberty wrote in a bullish note on the company on Tuesday. The analyst added that the current drop in the company's share price was factoring in a deceleration in revenue and earnings growth that was unjustified in light of medium- and long-term growth drivers.
According to Huberty, Wall Street was pricing in negative 4 percent long-term earnings per share growth in the stock, even though Apple has been achieving 14 percent revenue growth. "In other words, investors expect significant share losses and/or margin contraction," she wrote. "In addition to iPhone market expansion through new products and carrier partners, Apple's entry into new markets can help shift investor perception of long-term growth."
Huberty estimated that Apple could earn $17 billion in annual revenue and $4.50 per share earnings if it were to launch a smart TV in the U.S. at an average selling price of $1,300. That would come from a barely 10 percent penetration of the half a billion active iTunes account users, and could go up to as much as $68 billion and $18 in EPS if the launch is turned global.
(Chart courtesy of Morgan Stanley)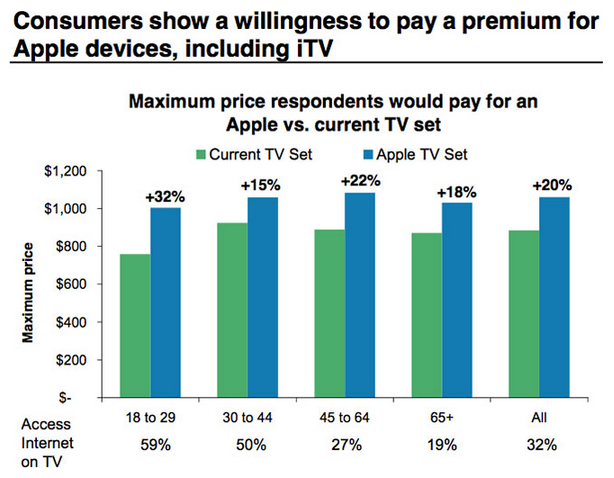 In addition, the launch of a newly rumored iWatch priced between $200 and $300 could add an incremental $10 to $15 billion in annual revenue and $2.50 to $4 in EPS. This would require a 20 percent penetration of iTunes users and require sales of 50 million units of the device annually. Huberty did say that she had no direct knowledge of such a device being in the pipeline.
"Importantly, iTV and iWatch present new services opportunities that can differentiate Apple's broader product portfolio, improving investor sentiment around Apple's ability to maintain market share," Huberty wrote. "Possibilities include, mobile payments service linked to iTunes/iWatch and video search and multi-screen viewing with iTV."
Huberty, who has an Overweight rating and $630 price target on Apple, also listed a set of possible near-term catalysts for the company, including a new lower-price iPhone for emerging markets this summer, an iPad refresh, larger dividend payments to investors, and new carrier partnerships with NTT Docomo (NYSE:DCM), T-Mobile, and China Mobile (NYSE:CHL) later this year.
Don't Miss: Analyst: Apple is Ready With Dividend News.