Analyst: Here's What to Expect from Apple Tonight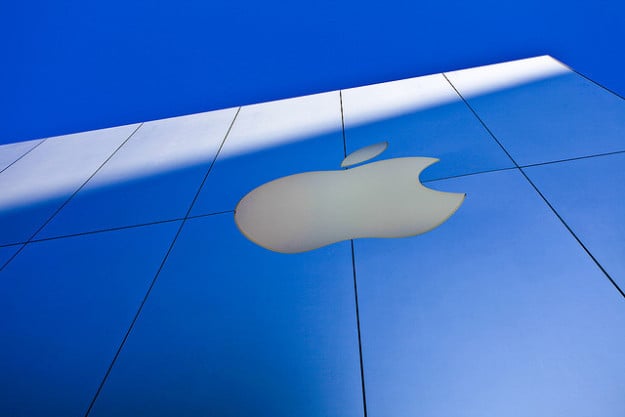 Cantor Fitzgerald analyst Brian White offered his final thoughts on Apple's (NASDAQ:AAPL) fiscal fourth quarter earnings before the company announces its results this evening after the market closes. Based on his increased iPhone and iPad sales estimates and "a more favorable pricing strategy around the iPhone 5C," White raised his revenue and EPS expectations for Apple's September quarter.
White's fiscal fourth quarter revenue estimate increased from $34.57 billion to $37.49 billion, while his EPS estimate jumped from $7.23 to $8.06. However, White believes Apple's profit cycle hit a low point in the June quarter and his current September quarter sales forecast is only a 6 percent increase over the last quarter.
This is far below the average 21 percent growth rate that Apple has seen in the past six fiscal fourth quarters. White also noted that his fiscal year 2013 forecast for EPS has declined for the first time since fiscal year 2003 and he characterized Apple's fiscal year 2013 as "a year to forget." White raised his September quarter iPhone unit shipment prediction from 31.8 million to 32.96 million and bumped up his iPad unit forecast from 13 million to 14 million. On the other hand, he lowered his Mac unit forecast from 4.0 million to 3.8 million.
Looking beyond the previous quarter, the Cantor Fitzgerald analyst saw good things ahead for Apple in fiscal year 2014 and predicted EPS growth would return. White cited a "strong start" for the iPhone 5S, the recently unveiled iPad Air, and Carl Icahn's demands for increased cash distribution as the reasons for his optimism regarding fiscal year 2014. Icahn recently released an open letter to Tim Cook that requested Apple fund a $150 billion share buyback with funds borrowed at 3 percent.
White raised his revenue forecast for Apple's December quarter from $56.5 billion to $58.94 billion and boosted his EPS estimate from $14.24 to $14.50. This also led him to increase his overall fiscal year 2014 EPS estimate from $43.97 to $45.00 and his fiscal year 2015 EPS estimate from $51.19 to $52.10.
Cantor Fitzgerald currently has a "Buy" rating on Apple stock and a price target of $777. White noted that the price target is based on "nearly 14x our CY:14 pro forma EPS estimate (adjusted for interest income/expense), plus Apple's net cash per share of $140.29." Here's how Apple traded last week.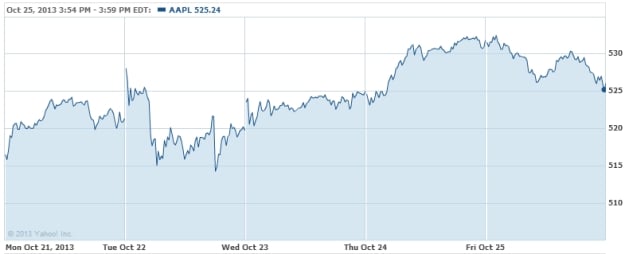 Follow Nathanael on Twitter (@ArnoldEtan_WSCS)
Don't Miss: Motorola Undercuts Apple's iPhone 5S With a New Moto X Price.