Analyst: iPad Sales Will Tank in Q2
Is Apple (NASDAQ:AAPL) starting to show vulnerability in the increasingly competitive tablet market?  KGI Securities' Ming-Chi Kuo is one analyst who believes that Apple will soon lose its iron grip on the worldwide tablet market.
Kuo believes that iPad shipments will decline 20 to 25 percent in the second quarter compared to last quarter's results. According to IDC data, Apple shipped 19.5 million tablets in the first quarter of 2013. The KGI analyst is predicting that Apple will only sell 14 to 15 million tablets in the second quarter.
If Kuo's prediction proves correct, this would mean that Apple's iPad shipments will have declined 10 to 15 percent over the same quarter last year. This would be unprecedented, since iPad sales haven't had a year-over-year decline in sales since the device debuted in 2010.
In a note to investors via Apple Insider, Kuo lays out his arguments for Apple's predicted market share decline. Kuo blames the increasing number of cheap Android tablet alternatives that have flooded the market, as well as the decreasing number of iPad mini units being shipped. Kuo believes that the iPad mini will see an approximately 40 percent decline in quarter-over-quarter shipments.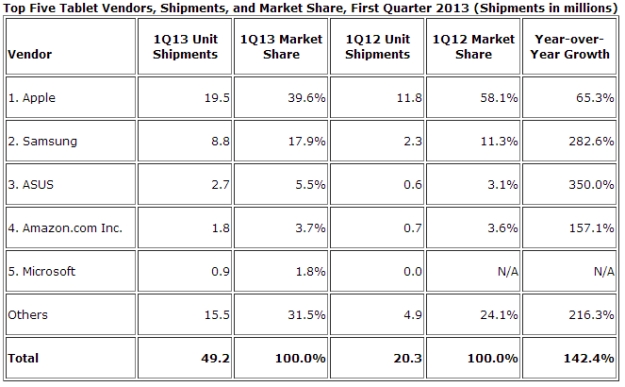 However, Kuo also notes that the unusually high base numbers from the 2012 launch of the third-generation iPad have made last year's numbers a hard act to follow. Although Kuo notes that the expected launch of the fifth-generation iPad in the third quarter should bring sales back up to first-quarter levels, he fails to acknowledge that the supposed decline in second quarter sales may also be due to consumers' anticipation for this next iteration of iPad. In other words, many consumers may be holding off on buying a new iPad because they know a new version is coming just around the corner.
Although the latest IDC figures show that Apple's share of the worldwide tablet market fell to just below 40 percent in 2013 from the 58.1 percent it held in the same quarter of last year, the Cupertino-based company still managed to increase its year-over-year shipments by 65.3 percent. However, rival tablet-maker Samsung (SSNLF.PK) saw 282.6 percent year-over-year growth. ASUS, which developed the Nexus 7 tablet in conjunction with Google (NASDAQ:GOOG), saw its year-over-year growth jump by a whopping 350 percent in the first quarter of 2013.
Here's how Apple has traded over the past six months.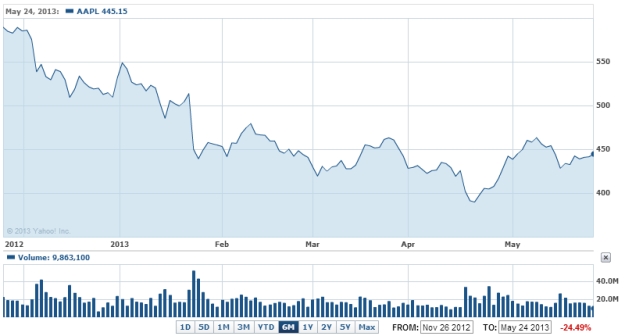 Here's how Apple traded on Tuesday: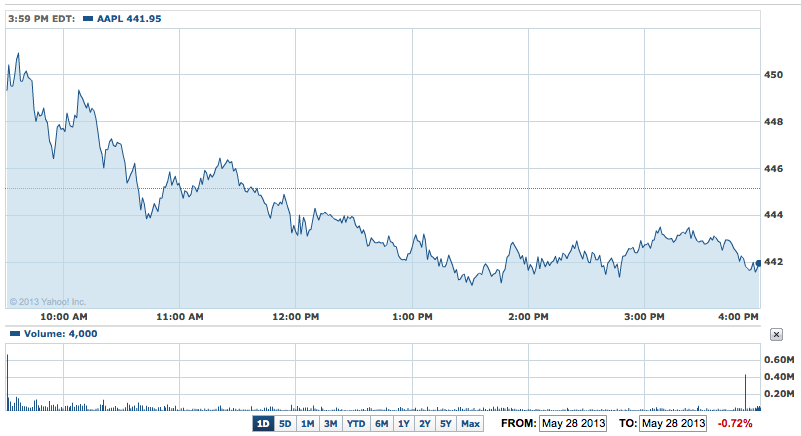 Follow Nathanael on Twitter (@ArnoldEtan_WSCS)
Don't Miss: Why Is Apple Phasing Out This Movie Trailer Option?