Analyst: iPhone and New Products Will 'Re-Accelerate' Apple's Growth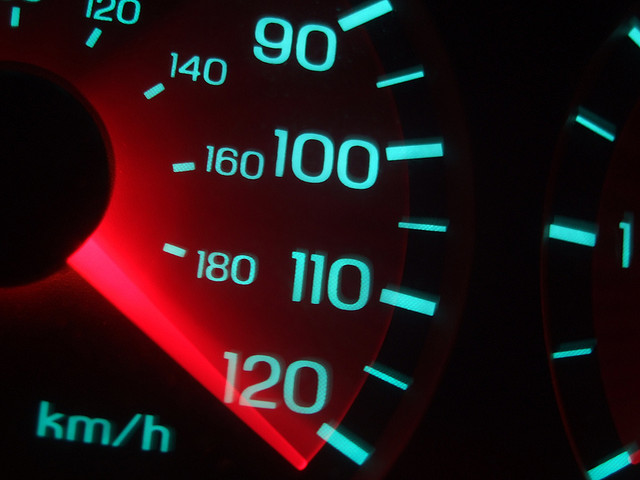 Does Apple (NASDAQ:AAPL) remain a "Buy" for investors? Although many other pundits disagreed, ISI Group analyst Brian Marshall remained bullish on Apple's future prospects during a CNBC appearance. Despite the "standstill" in the high-end smartphone market, Marshall believes that "the phone is enough" to drive Apple's growth.
However, the ISI Group analyst also cited two important iPhone strategies that are necessary for Apple to remain competitive. "We need a new 5-inch phone," stated Marshall. He also thinks that a "low-cost iPhone is hugely important because internationally, Apple's penetration is actually less than half of what it is domestically." The success of Apple's international expansion efforts may depend on a future partnership with China Mobile (NYSE:CHL), which is the world's largest carrier with over 700 million subscribers.
Although the company's heavy reliance on iPhone profits makes it vulnerable to the increasingly saturated smartphone market, Marshall believes that Apple's "solid growth, attractive valuation, and best-in-class ecosystem" still earn Apple a "Buy" rating. However, the analyst also noted that 85 percent of Apple's gross profits are derived from two products – the iPhone and the iPad.
After he acknowledged that Apple may not be the "best idea" for investors like it was a few years ago, he argued that it still "offers the highest dividend yield in our coverage universe — about 300 basis points." Marshall also stated that "the product introductions over the next couple of quarters are going to be enough to re-accelerate the earnings growth and so I think the stock is going to slowly start to factor in some of this going forward."
Finally, Marshall addressed the host's concerns about Apple's "hype premium." In other words, could a low-cost iPhone hurt Apple's premium image and negatively affect its overall stock price?
However, Marshall argued that the "luster" has already been removed from Apple's stock price. He pointed out that, "The loss of Steve Jobs, as well, hasn't helped. We don't think there's a lot of hype built into the stock at this point. We think this has become more like a Microsoft (NASDAQ:MSFT), more like an Intel (NASDAQ:INTC).
Marshall has a $600 price target on Apple stock. Here's how Apple has traded over the past five days.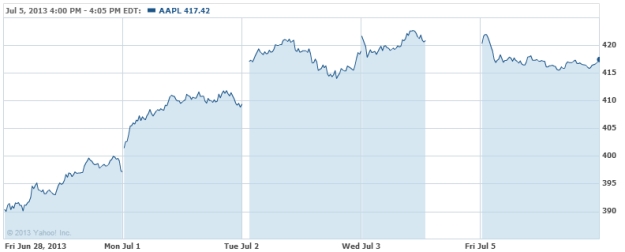 Follow Nathanael on Twitter (@ArnoldEtan_WSCS)