Analyst: iPhone Will Get Bigger — Just Not That Big

How big will Apple's (NASDAQ:AAPL) future iPhone iterations become? Fans of over-sized iOS-powered smartphones that were looking forward to the debut of an Apple phablet next year may want to read KGI Securities analyst Ming-Chi Kuo's note before they get their hopes up.
Recently, the Wall Street Journal cited unnamed industry sources that reported Apple "has begun evaluating a plan to offer iPhones with screens ranging from 4.8 inches to as high as 6 inches." The news was welcomed by many analysts who have been urging Apple to exploit the phone-tablet hybrid market that was pioneered by Samsung (SSNLF.PK) with its Galaxy Note line of phablets.
Despite the rumors, well-connected analyst Kuo is doubtful that Apple will release a device with a screen larger than 4.5 to 5 inches in 2014, reports Apple Insider. This would keep Apple's larger-screen iPhone squarely on the phone side of the phone/tablet divide.
Kuo points to Apple's "unwavering principle of one hand use" for its iPhones as its reason for not wanting to make a display larger than 5 inches. Apple last changed the screen size in its iPhone product line when it went from the 3.5-inch screen of the iPhone 4S to the 4-inch screen of the iPhone 5.
Cantor Fitzgerald analyst Brian White recently wrote a note that predicted an Apple phablet would help the Cupertino-based company increase its share of the smartphone market in China, where "'awkwardly' large smartphones" are currently a fashion trend. Samsung's recently released Galaxy Note III features a 5.7-inch display, which is even larger than the 5.55-inch display of its predecessor, the Galaxy Note II.
Although some analysts and consumers would like to see an iPhone phablet next year, Apple may be wiser to avoid engaging in a game of screen-size one-upmanship with its rivals. According to a smartphone size preference survey released by Strategy Analytics earlier this year, most existing smartphone owners prefer a screen size between 4.2 inches and 4.7 inches.
Here's how Apple closed out the trading week.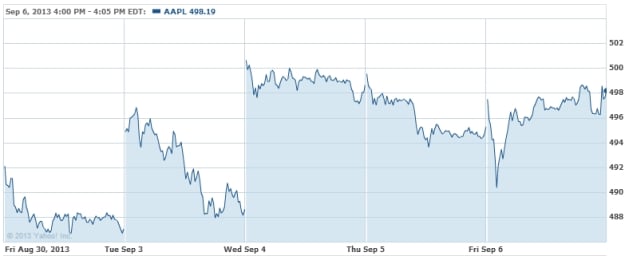 Follow Nathanael on Twitter (@ArnoldEtan_WSCS)