Analyst: Large iPhone Screen Is Essential Catalyst
Is a larger-screen iPhone the last big hope for Apple (NASDAQ:AAPL) investors? Analyst Chris Caso of Suquehanna Financial Group states via Barron's that the launch of a larger-screen iPhone is the only "significant catalyst" that he foresees in Apple's future.
Although Caso believes that this iPhone upgrade is inevitable due to the pressure that Apple is feeling from Samsung's (SSNLF.PK) success with its large-screen devices, he also thinks that Apple will not have its large-screen iPhone ready until the first quarter of 2014. For this reason, Caso models $194 billion in revenue for Apple in 2014 and $47.30 earnings per share. This is higher than the consensus estimate of $187.7 billion in 2014 revenue and EPS of $44.14.
Regarding the upcoming iPhone 5S, Caso believes that this new model is likely to have only incremental "evolutionary" changes, rather than revolutionary changes that would inspire consumer excitement. For this reason, Caso thinks that the iPhone 5S will have a negligible impact on Apple's recent share losses. He expects the iPhone 5S launch to have a "short-term catalyst" effect sometime this summer.
Caso disagrees with many analysts who think that a low-cost iPhone will help Apple gain new customers in emerging markets where cheaper smartphones dominate. He believes that this market is already being served by the iPhone 4 "as a value product for lower price points." However, a low-cost iPhone would help Apple regain some profit margin since it would presumably have a cheaper production cost than the iPhone 4, 4S, and 5. Caso also predicts that the low-cost iPhone will be designed specifically to work on China Mobile's (NYSE:CHL) expanding network.
Unfortunately, Caso believes that the low-cost iPhone's effect on Apple's profit margins won't be seen until at least the fourth quarter of this year. For this reason, Caso is modeling $170 billion in revenue for Apple's current fiscal year, which is below the consensus estimate of 171.4 billion. Caso also expects $38.93 EPS versus $39.77 consensus EPS.
Caso currently rates Apple stock at Neutral with a target price of $480. Here's how Apple has traded so far this week.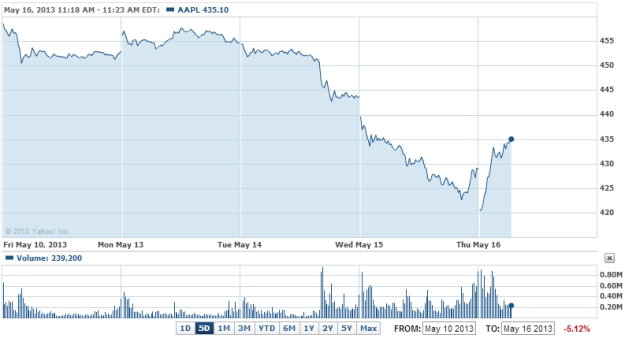 Don't Miss: What's Your Old iPhone Worth?