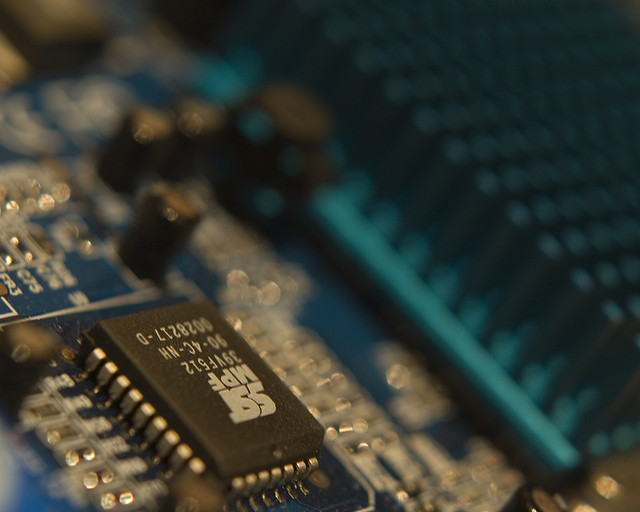 Word is going around that Apple (NASDAQ:AAPL) is considering buying a semiconductor fabrication plant, but it's still just rumors at this point. The move might not even make much sense, given the company's recently inked arrangement with Taiwan Semiconductor Manufacturing Co. (NYSE:TSM)
In a research note, Piper Jaffray analyst Gene Munster mentioned that website SemiAccurate suggested Friday that Apple was looking to purchase its own semiconductor fab. According to Munster, it could make sense for Apple to get its hand on a development fab, but that it wouldn't make sense for Apple to invest in one or buy a production facility.
Due to the intense competition of the smartphone war, Apple and Samsung (SSNLF.PK) have had a harder time getting along. The relationship has been especially strained because Samsung has been Apple's main chip supplier amid the rivalry, so Apple has shown its desire to distance itself from Samsung and cut down on its dependence.
TSMC and Apple's recent supply agreement will allow Apple to take Samsung out of the picture starting in 2014 with the manufacturing of the next in its series of mobile chips. Given that Apple will have the support of TSMC, it wouldn't make much sense for Apple to invest in semiconductor manufacturing, but it could make sense to put money into the development of new chips.
According to Munster, Apple could buy a 10-nanometer development fab for around $2 billion. A production facility would cost more than $5 billion. Based on this financial point alone, it would make more sense for Apple to go into development. But of course, there is even more to the matter than the cost of entry.
Since Apple has amassed a wealth of cash that it almost doesn't know what to do with, buying a development fab could be viewed favorably by investors, as it "would enable Apple to utilize some of its cash and potentially improve margins," said Munster. On top of that, buying a fabrication plant might be the only way for Apple to actually dip into the chip business.
In terms of foundry-style partnerships, there aren't many options for Apple. Samsung was no longer an option once the two started competing with each other, and Intel (NASDAQ:INTC) didn't work out for some reason — Munster believes it may have been because Intel didn't have "the IP or the infrastructure in place to be a Foundry for [System-on-Chip] designs."
Munster also said it didn't make much sense for Apple to simply invest money into a semiconductor fabrication company. He considered United Microelectronics Corp. (NYSE:UMC) a likely candidate for investment, but noted that the company "lags behind Intel, Samsung, IBM (NYSE:IBM), and Global Foundries in terms of process technology."
If Apple can't invest in a fab and shouldn't go into manufacturing, that leaves only fabrication. If Apple is going into the business, Munster believes "Apple's best option is not to buy a factory, but rather to develop logic process technology." It could even be an opportunity for Apple to land some extra licensing fees or sales if it starts fabricating its own processes.
Whatever Apple does in regards to chips, Munster believes the main things to focus on for Apple are "the cheaper iPhone coming in the fall, the TV announcement at the end of the year, and an iWatch in 2014."