Analyst: New iPad Sales Won't Return Apple's Tablet Market Crown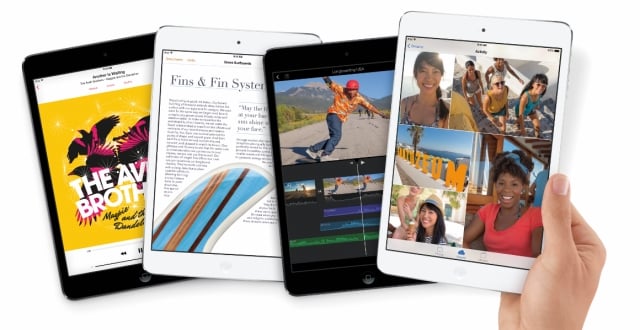 UBS analyst Steven Milunovich took a somewhat pessimistic view of Apple's (NASDAQ:AAPL) new iPad sales and overall position in the tablet market in a recent note to investors. The analyst noted via Barron's that the sales of Apple's new iPad models are not "on the same growth curve as the iPhone at a similar point since introduction." Apple released the 9.7-inch iPad Air on November 1 and the 7.9-inch iPad mini with Retina display on November 12.
The analyst predicted that Apple will see a 9 percent year-over-year increase in iPad sales with 25 million units shipped in the December quarter. However, he cited the company's decreasing share of the overall tablet market as a cause for concern. According to market research firm IDC, Apple's share of the worldwide tablet market hit an all time low of 29.6 percent in the third-quarter of this year.
"It's not that Samsung (SSNLF.PK) Electronics, Google (NASDAQ:GOOG), and Amazon (NASDAQ:AMZN) are gaining share head-to-head, but that there is so much growth in $100-200 tablets in Asia," wrote Milunovich via Barron's. The analyst also noted that large-screen "phablet" smartphones and PCs may be encroaching on the overall tablet segment. Milunovich reiterated a "Neutral" rating and a $540 price target on Apple stock.
Milunovich observed that, "Content creation is the tablet's Achilles heel" because the product is primarily used for entertainment. Although he admitted via Barron's that, "So far Apple appears okay with that but an alternative is to develop a convertible product aimed at a different job to be done." While Milunovich raised some interesting concerns about the rise of "$100-200 tablets in Asia," it should be noted that other analysts are not so sure that those tablet makers will be able to sustain their current growth rates long enough to pose much of a threat to Apple.
"These low cost Android-based products make tablets available to a wider market of consumers, which is good. However, many use cheap parts and non Google-approved versions of Android that can result in an unsatisfactory customer experience, limited usage, and very little engagement with the ecosystem," noted IDC research director Tom Mainelli. "Android's growth in tablets has been stunning to watch, but shipments alone won't guarantee long-term success. For that, you need a sustainable hardware business model, a healthy ecosystem for developers, and happy end users."
Here's how Apple has traded over the past five trading sessions.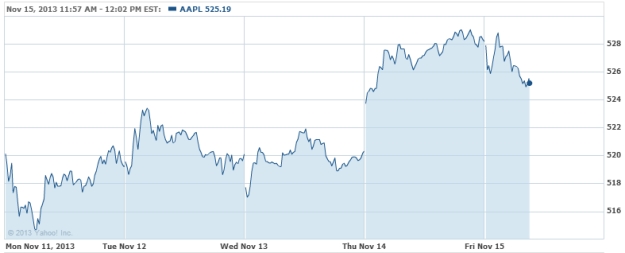 Follow Nathanael on Twitter (@ArnoldEtan_WSCS)
Don't Miss: Munster: Apple Is Catching Up to iPhone 5S Demand.