Analyst: No Apple-China Mobile Deal Is No Big Deal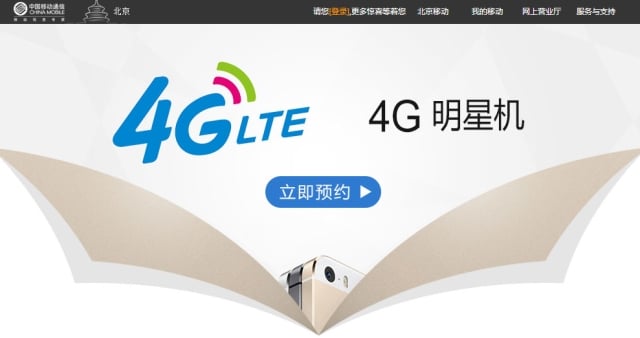 A prominent analyst recently told Apple (NASDAQ:AAPL) investors not to worry about the current lack of a distribution deal between Apple and China Mobile (NYSE:CHL). According to Barron's, Barclays analyst Ben Reitzes characterized the buildup to the long-rumored deal as "overhyped." The analyst reiterated an "Overweight" rating on Apple stock and a $585 price target.
The Wall Street Journal had previously cited sources that reported China Mobile would announce a distribution deal with Apple when it unveiled its new 4G services at a global partner conference in Guangzhou on December 18. However, the carrier failed to announce a distribution deal.
Reitzes noted that his own supply chain checks had not revealed an increase in iPhone manufacturing that would be expected to accompany a distribution deal with China Mobile. "We believe this news is likely why our analysis of builds has pointed to a lack of iPhone upside for weeks with solid 5S indications — coupled with very weak trends in the 5C," wrote Reitzes in a note obtained by Barron's. "When a deal is eventually announced with CM, we expect a steady take rate given network limitations."
However, Reitzes noted that the California-based company would still likely see growth in China during its fiscal year 2014. "Even with today's lack of announcement, Apple may be one of the few companies in our space to grow in China in its fiscal 2014," wrote the Barclays analyst via Barron's. "[T]his still seems to be achievable without China Mobile."
Reitzes also noted that a partnership with the world's largest carrier is still likely to occur in calendar year 2014. "We have expected a deal to have a gradual phase in period yielding millions of units in channel fill in C1H14, which still seems quite likely at this point," wrote the analyst in a note obtained by Barron's. However, Reitzes noted that the eventual impact of a China Mobile deal could be quite significant. He cited fellow analyst and China Mobile expert, Anand Ramachandran, who believes that, "Apple's total addressable market…within China Mobile could approximate 80 million units."
Although China Mobile and Apple have both declined to officially confirm a distribution deal, China Mobile has already activated various promotional pages for its new 4G services and the iPhone 5S. Images of Apple displays in China Mobile retail locations have also emerged online, leading many industry watchers to believe that an announcement is imminent.
Here's how Apple has traded over the past five sessions.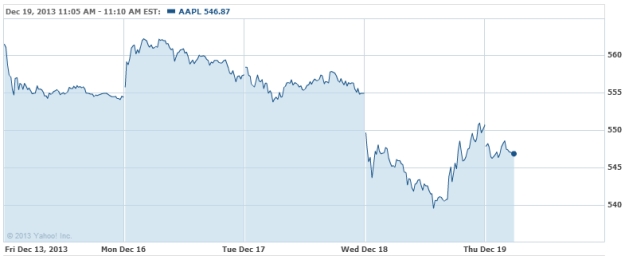 Follow Nathanael on Twitter (@ArnoldEtan_WSCS)
More from Wall St. Cheat Sheet: