Analyst: Nokia's Windows Phone No Match for Android or Apple's iOS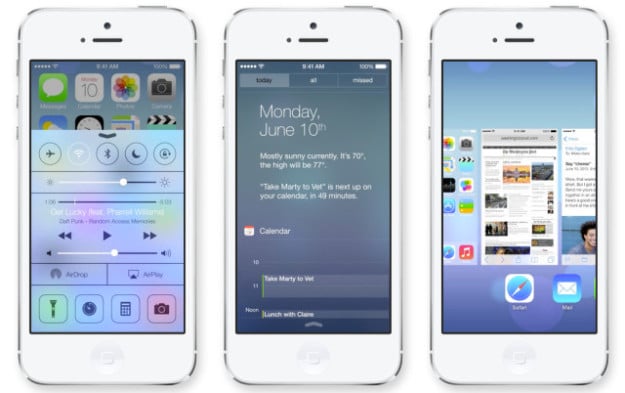 Are Nokia's (NYSE:NOK) struggling Windows Phone-powered devices a sign that consumers are happy with the market dominance of Apple's (NASDAQ:AAPL) iOS and Google's (NASDAQ:GOOG) Android platforms? Needham & Company analyst Charlie Wolf downgraded Nokia shares from a "Buy" to a "Hold" rating, after a disappointing quarterly earnings report on Thursday, reports Barron's.
Although Lumia sales actually grew 32 percent over the previous quarter, the average selling price dropped 18 percent. In his research report, Wolf noted that the falling sales price of Nokia's Windows Phone-based Lumia smartphones seem to "raise the larger question of whether consumers are even interested in a viable third platform in the smartphone market."
"The argument has been made ad nauseam that carriers would like to see a third major smartphone platform emerge to compete with the iPhone and Android. However, Nokia's second quarter results raise the possibility that consumers are content with just two platforms. If so, this does not speak well for the Microsoft (NASDAQ:MSFT)/Nokia duo going forward," wrote the analyst.
The average selling price of a Nokia Lumia smartphone fell to €157, or $206, last quarter. Wolf believes that this indicates "that lower priced Lumia represented the bulk of smartphone sales." However, Nokia recently released the Lumia 1020, which features a 41-megapixel camera and a $300 retail price.
According to IDC data, Google's Android and Apple's iOS are the number one and number two ranked smartphone platforms, respectively. In the first quarter of 2013, these two operating systems combined accounted for 92.3 percent of all smartphone operating system shipments. In comparison, Microsoft's Window Phone operating system held just a 3.2 percent share of the market.
Wolf noted via Barron's, "The failure of Windows 8 to gain meaningful traction also suggests that smartphone buyers are content to choose between high-end iPhones and Android smartphones in mature markets, and between Android and feature phones in emerging markets."
Here's how Apple and Nokia have traded so far today.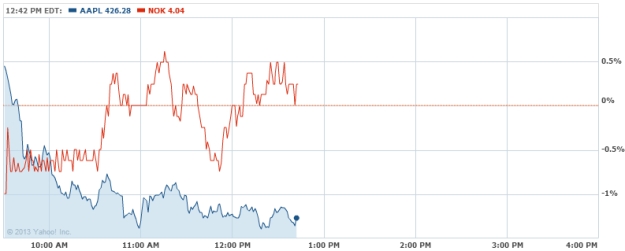 Follow Nathanael on Twitter (@ArnoldEtan_WSCS)
Don't Miss: Apple's Still the Coolest Kid on the Block, Even if It's Growing Up.