Analyst: The Apple Party Is Over
Have Apple (NASDAQ:AAPL) shares become a poor investment choice? Although Apple may have been a fantastic investment when it was on its way to $700 last year, it is unrealistic to expect that kind of growth from the company today, argues analyst Ashraf Eassa at Seeking Alpha.
Although Eassa acknowledges that Apple literally invented the smartphone and tablet markets, he believes the days when Apple investors could reliably count on the high profits of these two product lines are coming to an end. He believes that the profits Apple derives from the iPhone and iPad cash cows are fundamentally unsustainable, because the markets that Apple originally created and dominated have now evolved into highly competitive environments with new low-cost options for price-conscious consumers.
Like many analysts, Eassa points to the widespread adoption of Google's (NASDAQ:GOOG) Android platform, which dominates the emerging markets where Apple products are at a price disadvantage. He also believes that Microsoft's (NASDAQ:MSFT) Windows 8-based tablets powered by Intel's (NASDAQ:INTC) chips will soon gain traction in the enterprise market, in much the same way that Microsoft already dominates the PC enterprise market.
The analyst notes that Apple's iPad has lost market share and he believes it will continue to do so. According to the IDC, Apple's year-over-year worldwide tablet market share declined from 58.1 percent in the first quarter of 2012, to 39.6 percent in the first quarter of this year.
Eassa also believes that the iPhone is losing its cachet as the premium smartphone on the market. He notes that Samsung's (SSNLF.PK) Galaxy S IV and the HTC One "feature faster processors, more RAM, higher resolution screens, more storage, and all at an equal or lower cost than what an iPhone 5 has!" In this sense, the higher price of the iPhone is unjustifiable to consumers and unsustainable in the overall market. The loss of Apple's "premium" status and the falling smartphone prices in the overall market will be weights that drag Apple's high iPhone margins down.
Eassa is also not impressed by Apple's recent program to return more capital to shareholders. He thinks this is a tactic by Apple to "put a floor on the stock price" without creating any "meaningful upward catalysts." Without addressing the underlying weakness in its product base, Eassa believes holding Apple stock is "likely to be an eternal exercise in frustration."
Here's how Apple has traded over the past week.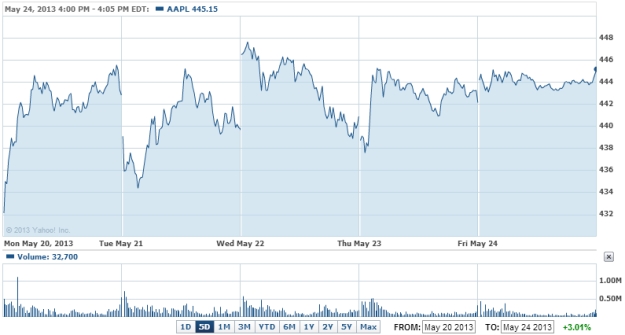 Follow Nathanael on Twitter (@ArnoldEtan_WSCS)
Don't Miss: Analyst: Android Smartphones Will Undercut Apple iPhone Sales.