Analyst: These Carriers Still Have Apple's Back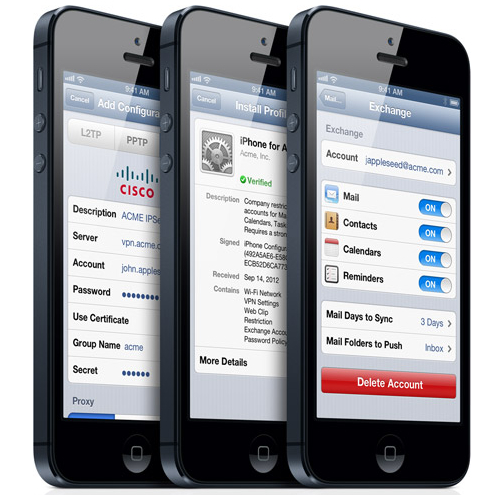 Will sales of Apple's (NASDAQ:AAPL) iPhone and other smartphones decline as telecom operators slash subsidies? Raymond James's analyst Tavis McCourt believes that smartphone sales could actually soon be increasing despite investor concerns over reduced carrier subsidies for smartphones, reports Tiernan Ray at Barron's.  McCourt reiterated his Outperform rating and $600 price target on Apple stock on Friday, despite Apple's recent decline in share price.
Rather than passing any additional phone cost on to the consumer, carriers appear to be finding other ways to keep initial smartphone prices low. Sprint-Nextel (NYSE:S) is featuring $100 discounts on the iPhone as well Samsung's (SSNLF.PK) Galaxy S4. McCourt notes that Sprint has followed T-Mobile's example in selling the iPhone at a substantial upfront discount price.
T-Mobile has ditched the conventional long-term contract method of selling phones and is instead offering two alternative methods of payment for all versions of the iPhone 5. The base 16GB version of the iPhone 5 is offered for a one-time payment of $579.99, or you can pay $99.99 down and $20 a month for 24 months reports The Verge. As pointed out by The Verge, T-Mobile's upfront fee for a 16GB iPhone 5 is "$70 less than an unlocked iPhone 5 bought direct from Apple."
Via Barron's, McCourt observes that "when the upfront pricing for a product category decreases, demand increases, almost regardless of future financing payments. This is true in cars, housing, and pretty much everywhere, and we suspect it will be the case in smartphones too. It is too early to tell if T-Mobile's new pricing has set off a waterfall of competitive price decreases by carriers, but the over-arching fear of subsidy 'rationalization' by the U.S. carriers seems a bit premature in our view."
McCourt also does not see the discount smartphone prices threatening iPhone's typically higher upfront pricing. McCourt points out that the Galaxy S4 is actually $50 more expensive than the iPhone 5 at Sprint. This pricing could actually make the iPhone 5 the more popular choice for "price-conscious" consumers.
Here's how Apple and Sprint traded throughout the week.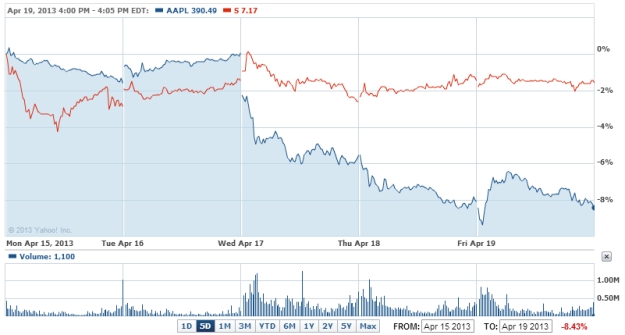 Don't Miss: Rumored iWatch Already Has Interested Customers.