Analyst: We'll Have an iWatch Before Christmas
Will Apple (NASDAQ:AAPL) debut the long-rumored iWatch before the year is out? One analyst is convinced that Apple has already primed its supply chain and is on the cusp of initiating production for this much-anticipated product.
Citigroup (NYSE:C) analyst Glen Yeung wrote in a note to investors via CNET that, "We believe iWatch is in a greater state of readiness, with the supply chain now waiting for the production go-ahead from Apple. We suspect the go/no-go decision will be made in June and are leaning toward a 'go' outcome at this time."
Based on his supply chain checks, Yeung believes an upcoming iWatch launch before the end of the year is "increasingly likely" reports CNET. Although Apple has remained typically tight-lipped about this unconfirmed product, there have been several news reports recently that give Apple iWatch believers some hope.
According to the Russian-language site izvestia.ru, Apple recently filed for ownership of the "iWatch" trademark in Russia. However, this report has not been confirmed and it should be noted that Apple typically files for trademarks under the guise of shell corporations to hide its identity. Similarly, a report last month from the Taiwan-based Economic Times alleged that Apple was eyeing 1.5-inch OLED screens, ostensibly for use in the iWatch.
KGI Securities analyst Ming-Chi Kuo also recently predicted a release date for the iWatch. However, Kuo thinks that the device won't debut until the second half of 2014. Kuo also believes that Apple will continue to use the GF2 touchscreen display technology that it currently uses in the iPad mini, rather than adopting the new OLED panels.
Here's how Apple has been trading so far this week.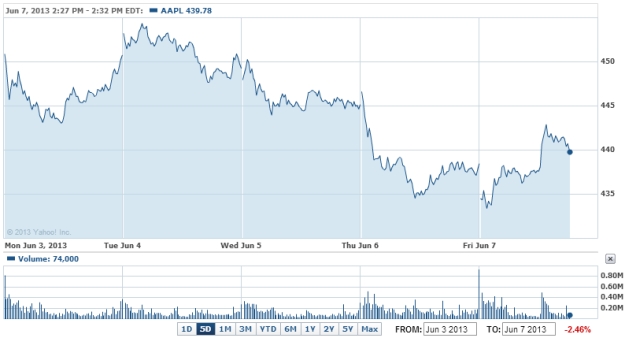 Follow Nathanael on Twitter (@ArnoldEtan_WSCS)
Don't Miss: Did Apple Help Google Get More Advertising Dollars?