Analysts: Apple's 5S Reports Strong Sales and 3 More Research Notes to Peruse
Apple Inc. (NASDAQ:AAPL): Canaccord's carrier survey indicates that Apple's iPhone 5s sales are quite strong, with improving supply levels, steady iPhone 5C sales, and strong sales for the new iPad Air, although the firm expresses concerns regarding supply constraints for the new iPad mini; the firm raised estimates and reiterated its Buy rating and $580 price target on Apple.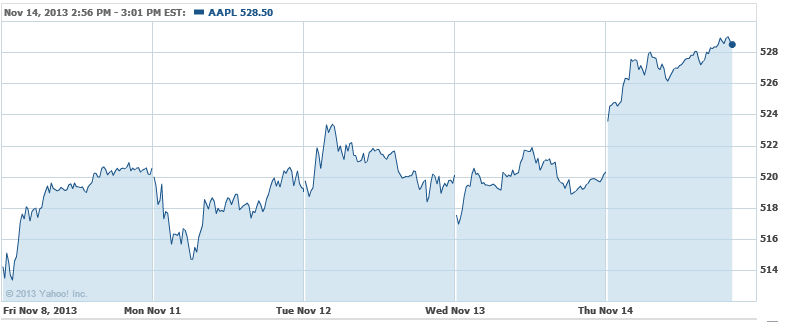 Tata Motors Ltd. (NYSE:TTM):  After Tata Motors reported strong second-quarter results, Bernstein believes that fears about the direction of Jaguar Land Rover's margins are unjustified; the firm thinks Tata Motors is having some issues in India but it contends that Jaguar Land Rover should be able to offset these difficulties; the analyst "strongly reiterates" an Outperform rating on the stock.

Carlyle Group LP (NASDAQ:CG): Goldman upgraded Carlyle to Buy from Neutral due to relative valuation, accelerating Private Equity, and diversified earnings; the firm raised its price target on Carlyle shares to $36 from $33.

Office Depot Inc. (NYSE:ODP): Bank of America Merrill Lynch downgraded Office Depot to Buy from Neutral; the firm upgraded shares to reflect OfficeMax synergies, the announcement of a new CEO who has turnaround experience, and expected gross margin expansion. The firm's price target on Office Dept is $6.50.
Don't Miss: Rumor: Apple's iWatch Design Different for Men and Women.