Analysts on Apple: Good and Bad News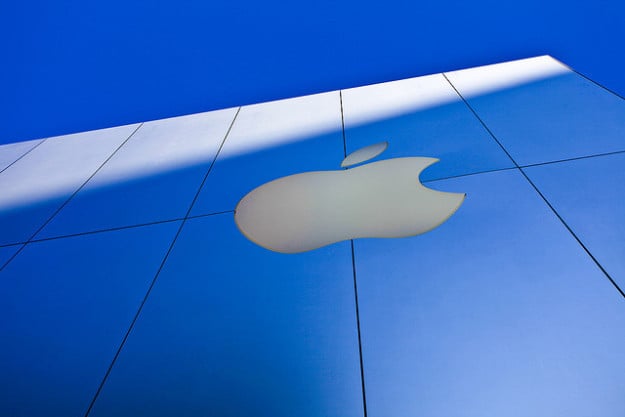 Apple (NASDAQ:AAPL) headed above $570 this past trading week after starting the week at $560.01. However, thanks in part to China Mobile's (NYSE:CHL) denial that a distribution deal with Apple had been reached, the iPhone maker closed the week on Friday at virtually the same level that it started the week at: $560.02. Like the markets, analysts gave some similarly mixed signals about Apple this week with various differing perspectives on Apple's shares.
On Friday, Citigroup analyst Glen Yeung took a somewhat negative, albeit mixed, perspective on Apple. "Our most recent work suggests Apple may have modestly lowered production forecasts for 1Q14," wrote the analyst in a note obtained by Barron's. For this reason, Yeung believes "downward pressure on Apple shares is likely in 1Q14." On the other hand, Yeung actually raised his price target on Apple from $530 to $580, although he also has a "Neutral" rating on the stock.
Raymond James analyst Tavis McCourt also took a mildly negative perspective on Apple based on his surveys of iPhone sales at various U.S. retail locations, as well as the latest data from market analyst company Kantar Worldpanel. In a note obtained by Barron's, McCourt observed that Apple's share of the smartphone market "has seen its typical seasonal uptick with the iPhone 5S launch across the world, but y/y share trends, though strong in the U.S., remain underwhelming for Apple globally."
Other analysts focused on the upside of a rumored distribution deal between Apple and China Mobile, despite China Mobile's assertion that it is "still negotiating" with the iPhone maker over terms of the agreement. According to Barron's, Evercore analyst Rob Cihra predicted that a deal with the world's largest carrier would add 5 million to 10 million iPhone sales in calendar year 2014. The analyst believes this would add $1.70 to Apple's EPS and compensate for the March quarter's "seasonality."
Piper Jaffray analyst Gene Munster was even more optimistic about the potential benefit of a deal with China Mobile and predicted that Apple could sell an additional 17 million iPhones in calendar year 2014. "[i]n terms of our 17 million first year sales estimate, we note that iPhone made up 6 percent of total smartphone sales in China in Q3-13," wrote the analyst in a note obtained by Street Insider. "While it's not completely apples to apples, we note that the 17 million unit sales would represent about 2 percent of China Mobile's total subscriber base (759 million in October) or 10 percent of the 3G sub base (176 million)."
Finally, Cantor Fitzgerald analyst Brian White also took a positive perspective on Apple based on data from various Taiwan-based suppliers that generate a high percentage of their sales from Apple. Based on this preliminary data, White predicted that "this November will prove to be the strongest in the history of our Apple Barometer." According to White, Apple's November sales increased 19 to 20 percent, higher than the average increase of 6 percent seen over the past eight years. White reiterated a "Buy" rating and a $777 price target on Apple shares.
Here's how Apple traded over the past week.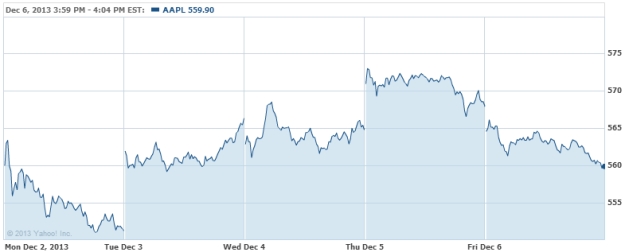 Follow Nathanael on Twitter (@ArnoldEtan_WSCS)
Don't Miss: Apple Barometer Hits Record High in November.