Android Users Are Cheaper Than Apple Users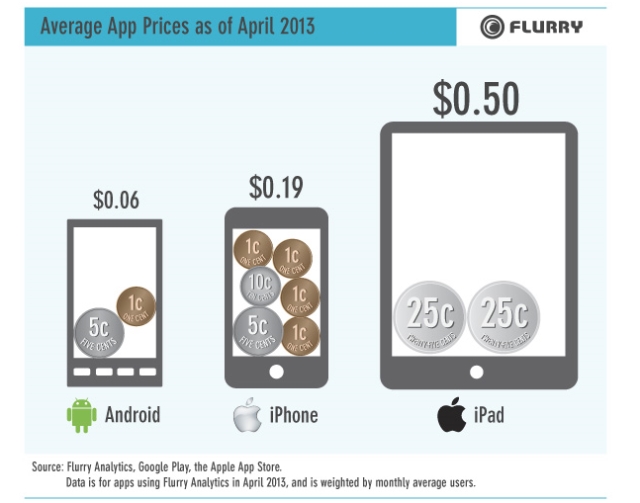 Analysts have long taken note of the demographic differences between Android and iOS users. In short, owners of Apple's (NASDAQ:AAPL) high-end devices tend to be more affluent and more willing to pay for their products and services than owners of Android-based devices. According to a recent survey from the Pew Internet & American Life Project, 40 percent of mobile phone owners with incomes above $75,000 a year are iPhone owners. Android holds just 31 percent of the same demographic.
A recent study by app analytics firm Flurry adds more evidence to this documented demographic difference.  Using data from the Apple App Store and the Google (NASDAQ:GOOG) Play Android app store, Flurry discovered that the average price for an iPhone app was over three times higher than the average Android app price.
Flurry notes that, "This suggests that Android owners want app content to be free even more than iOS device users, implying that Android users are more tolerant of in-app advertising to subsidize the cost of developing apps." Apple users' willingness to pay for apps also helps to fuel iOS's premium content ecosystem.
The study also found that the average price paid for an iPad app was 0.50 cents, significantly higher than the average price paid for both iPhone and Android apps. Although Flurry believes this may be due to the fact that "average iPad owners have higher incomes than owners of other devices," it may also be attributable to the psychological effect of buying an app that appears larger on a tablet's display.
A recent study by market research firm ABI Research found that tablet users are inclined to spend even more money on apps, because of the better user experience associated with a larger screen.
ABI Research senior analyst Josh Flood also noted, "iOS continues to lead the way, and the OS is projected to generate over two-thirds of the revenues for smartphone and tablet apps in 2013. Although Google's Android OS recently surpassed Apple in terms of total app numbers, iOS users continue to prove they're more willing to depart with their cash."
Follow Nathanael on Twitter (@ArnoldEtan_WSCS)
Don't Miss: Is a Budget iPhone Apple's Answer to the Evolving Smartphone Market?