Android Users Bought 40 Percent of iPads Sold on Black Friday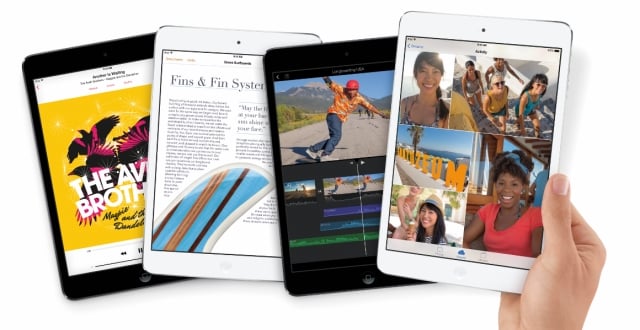 Were Apple's (NASDAQ:AAPL) Black Friday iPad sales a watershed for the U.S. tablet market? Consumer research company InfoScout recently analyzed over 90,000 Black Friday shopping receipts submitted by Android and iOS users in the U.S. in order to discover what the best-selling electronic devices were at the various retailers.
Not surprisingly, InfoScout found that various iterations of Apple's iPad were some of the top-selling products at major retailers. A consumer survey conducted by the Consumer Electronics Association before Black Friday suggested that 31 percent of shoppers planned to buy an electronics product over the weekend and that 30 percent of those electronics products would likely be tablets.
However, InfoScout was surprised to discover that approximately 40 percent of the iPads bought during the Black Friday shopping spree were purchased by existing Android smartphone users. "This discovery clearly poses a challenge for Android moving forward and heightens the importance of Chromecast as Google (NASDAQ:GOOG) competes for mindshare in the living room of the future," noted InfoScout VP Alexandre Linares.
The migration of Google's Android users to Apple's iPads wasn't the only bad news that InfoScout had for Apple's mobile operating system rival. As previously reported, Apple products accounted for 22 percent of Target's (NYSE:TGT) early sales on Black Friday.  About 18 percent of those sales came from Apple's iPads alone. InfoScout noted that Target's iPad sales were "10x the sales of all Android tablets combined."
Some Apple watchers were concerned by third-quarter market data recently released by IDC that showed Apple's share of the worldwide tablet market had slipped from 40.2 percent last year to 29.6 percent this year. Although Apple maintained its position as the No. 1 tablet vendor in the world, its iPad shipments grew less than 1 percent from the previous year. Meanwhile, Android-based tablet maker Samsung (SSNLF.PK) increased its share of the tablet market from 12.4 percent to 20.4 percent over the same time period.
However, the preliminary Black Friday retail data released by InfoScout suggests that Apple's tablet market share decline was a temporary phenomenon that was most likely due to the nearly year-long gap between product refreshes. Apple's strong Black Friday iPad sales seem to indicate that many consumers have been holding out for the latest iterations of Apple's compact and full-size tablets.
Apple released the iPad Air on November 1, while the iPad mini with Retina display was made available on November 12. Here's how Apple closed out Friday's shortened trading session.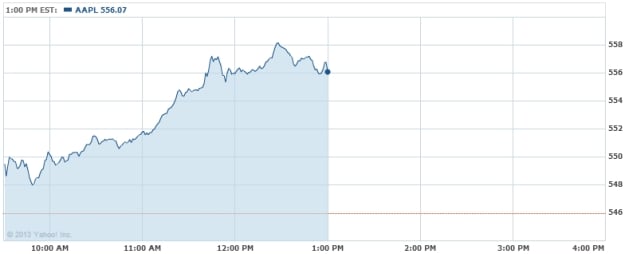 Follow Nathanael on Twitter (@ArnoldEtan_WSCS)
Don't Miss: Apple's iOS Dominates Black Friday Mobile Sales.