Android's Imitation Apple App Returns to Google Play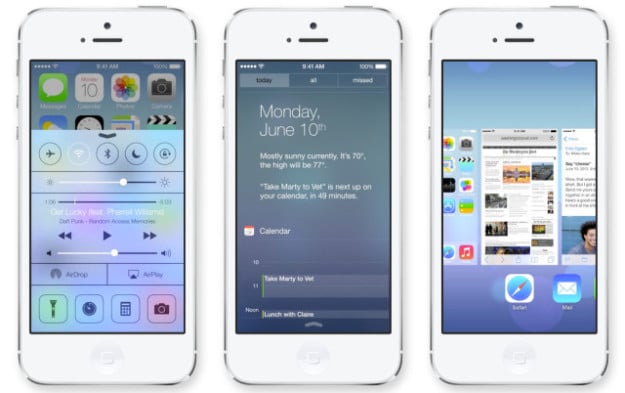 An Android app that blatantly copied the look of Apple's (NASDAQ:AAPL) iOS 7 Control Center has returned to the Google (NASDAQ:GOOG) Play store, after briefly being taken down due to complaints from Apple, reports Apple Insider. The appropriately titled "Control Center" Android app appeared to be a clone of Apple's iOS 7 Control Center feature when it initially debuted at the Google Play store.
Earlier this month, app developer Hi Tools Studio unveiled an app titled "Control Center" for Android-powered devices. Besides sharing the same generic name as Apple's iOS 7 Control Center, the Android app also bore an uncanny resemblance to the visual design of Apple's latest iOS feature.
Hi Tools Studio's Control Center app page describes the app as a "Swiss Army Knife Tool for Your Android Phone. Control Center contain [sic] commonly used switches of Android system and all installed apps, you could quickly toggle your switch and open your favorite apps."
Although the capability to control individual apps and phone functions through an easily accessible menu is not a unique Apple invention, the original Hi Tools Studio version of the Control Center did appear to be a visual copy of Apple's iOS 7 Control Center. After Apple lodged a complaint with the Google Play store, the app was taken down.
Hi Tools Studio forwarded the email that it received from Google to BGR: "Location_of_copyrighted_work: The application 'Control Center', which is available…copies, without authorization, the 'Control Center' feature of Apple's iOS 7. Apple owns the copyright in its iOS software and each of the features thereof. The aforementioned application infringes Apple Inc.'s ('Apple') copyright rights in the iOS 7 software."
However, it appears that Hi Tools Studio has altered or removed the specific elements of the app that were infringing on Apple's copyright, since the app has now returned to the Google Play store. Although the takedown notice that Hi Tools Studio received from Google did not specify what aspect of the app was infringing, Apple Insider notes that it was likely the overall visual design of the app that violated Apple's copyright.
Follow Nathanael on Twitter (@ArnoldEtan_WSCS)
Don't Miss: 8 Top Acquisitions by Marissa Mayer's All-New Yahoo.