Another Company Joins the Smartwatch Race — Is Apple Falling Behind?
Is Apple (NASDAQ:AAPL) falling behind in the smartwatch race? It seemed that not long after rumors of Apple's smartwatch development emerged late last year, other companies began announcing their own smartwatch projects. Dell (NASDAQ:DELL) is the latest tech company to join the smartphone race as the beleaguered PC maker looks for additional sources of income amid falling desktop computer sales.
Sam Burd, Dell's global vice-president of personal computing, told the Guardian that, "There are challenges in cost, and how to make it a really good experience. But the piece that's interesting is that computers are getting smaller. Having a watch on your wrist — that's pretty interesting, pretty appealing."
Although Burd expressed a strong interest in the wearable technology field, he also tempered his revelation by cautioning that, "we haven't announced anything, but we are looking at the technology in that space."
However, if Dell is truly interested in developing a smartwatch, it had better move quickly. Samsung (SSNLF.PK) already announced its intentions to develop a smartwatch earlier this year. Although Google (NASDAQ:GOOG) has refused to officially comment on its possible production of a smartwatch product, the Financial Times reports that Google has a patent for a "smart-watch including flip up display" that was awarded in October 2012. Even Apple supplier Foxconn has jumped into the smartwatch game after recently announcing its own Apple-compatible computer wristwatch that will allow users to check their phone calls and social media updates.
Some companies are even getting their products to market. Sony (NYSE:SNE) has already unveiled its SmartWatch 2 device which should be for sale in some markets later this month. Kickstarter-funded company Pebble will begin exclusively selling its smartwatch devices at Best Buy (NYSE:BBY) stores from July 7 onward.
So, is Apple missing the boat on the lucrative wearable tech market? Although it may frustrating for some Apple fans to see competitors' smartwatches hit the market before Apple's iWatch, they should keep in mind that "sooner" is not always "better." One only has to look at the history of the digital media player or mobile phone to understand Apple's track record of success.
On the other hand, the market certainly seems ready for an Apple smartwatch. ABI Research predicts that 1.2 million smartwatches will be sold worldwide in 2013. Earlier this year, a consumer research survey from 451 Research's Changewave service found that 19 percent of consumers were already interested in buying a smart watch from Apple.
Here's how Apple closed out the trading week on Friday.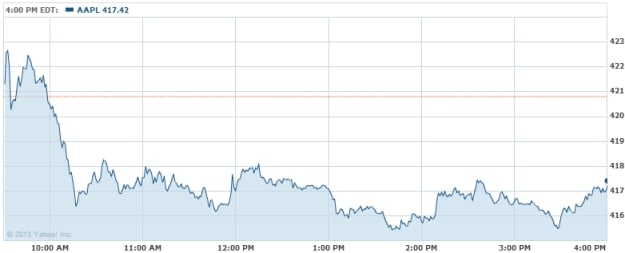 Follow Nathanael on Twitter (@ArnoldEtan_WSCS)