Another Small Tablet Maker Takes Aim at Apple's iPad Mini
LG Electronics became the latest company to mount a challenge to Apple's (NASDAQ:AAPL) iPad mini after it announced the G Pad 8.3 last week reports TheVerge. The G Pad 8.3 features a 1920×1200 resolution screen, which the Korea-based company claims is the first high-definition display for a small tablet of this size. In contrast, the current iPad mini features a 1024×768 resolution display.
LG's upcoming tablet also has an 8.3-inch screen that is slightly larger than the iPad mini's 7.9-inch display. In a teaser film, LG describes the 8.3-inch display as the "perfect size" for a small tablet that can fit in your pocket but still offer high-quality video viewing.
Although the Asus-built Nexus 7 also boasts a high-definition screen, LG apparently believes that the 7-inch Google (NASDAQ:GOOG) tablet qualifies for a different tablet size category. In this sense, it appears that LG is aiming its small tablet market ambitions squarely at Apple's iPad mini.
Apple is expected to unveil its second-generation iPad mini sometime after it launches the iPhone 5S and iPhone 5C this month. The iPad mini 2 is widely expected to be upgraded with a Retina display.
According to unnamed industry sources cited by the Wall Street Journal, Apple's suppliers are already gearing up to produce the iPad mini 2 in time for a fourth-quarter release. Ironically, one of the display panel makers is rumored to be LG Display (NYSE:LPL). LG Electronics has a 37.9 percent stake in its display-making subsidiary.
Although Apple hasn't released a new iPad mini in almost a year, it still accounts for the majority of the tablet shipments in the worldwide market. According to IDC data, Apple held a 32.4 percent share of the tablet market in the second quarter of 2013, with 14.6 million units shipped. Although this is a drop from the 17 million Apple sold in the year-ago quarter, the anticipated iPad mini refresh later this year is likely to boost Apple's market share again.
Here's how Apple closed out the trading this week.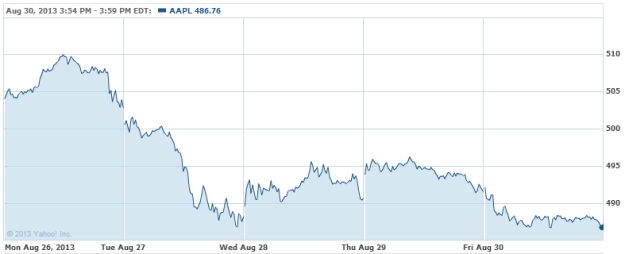 Follow Nathanael on Twitter (@ArnoldEtan_WSCS)